RAM REVIEW: Modernizing Learning, Student Spotlight and More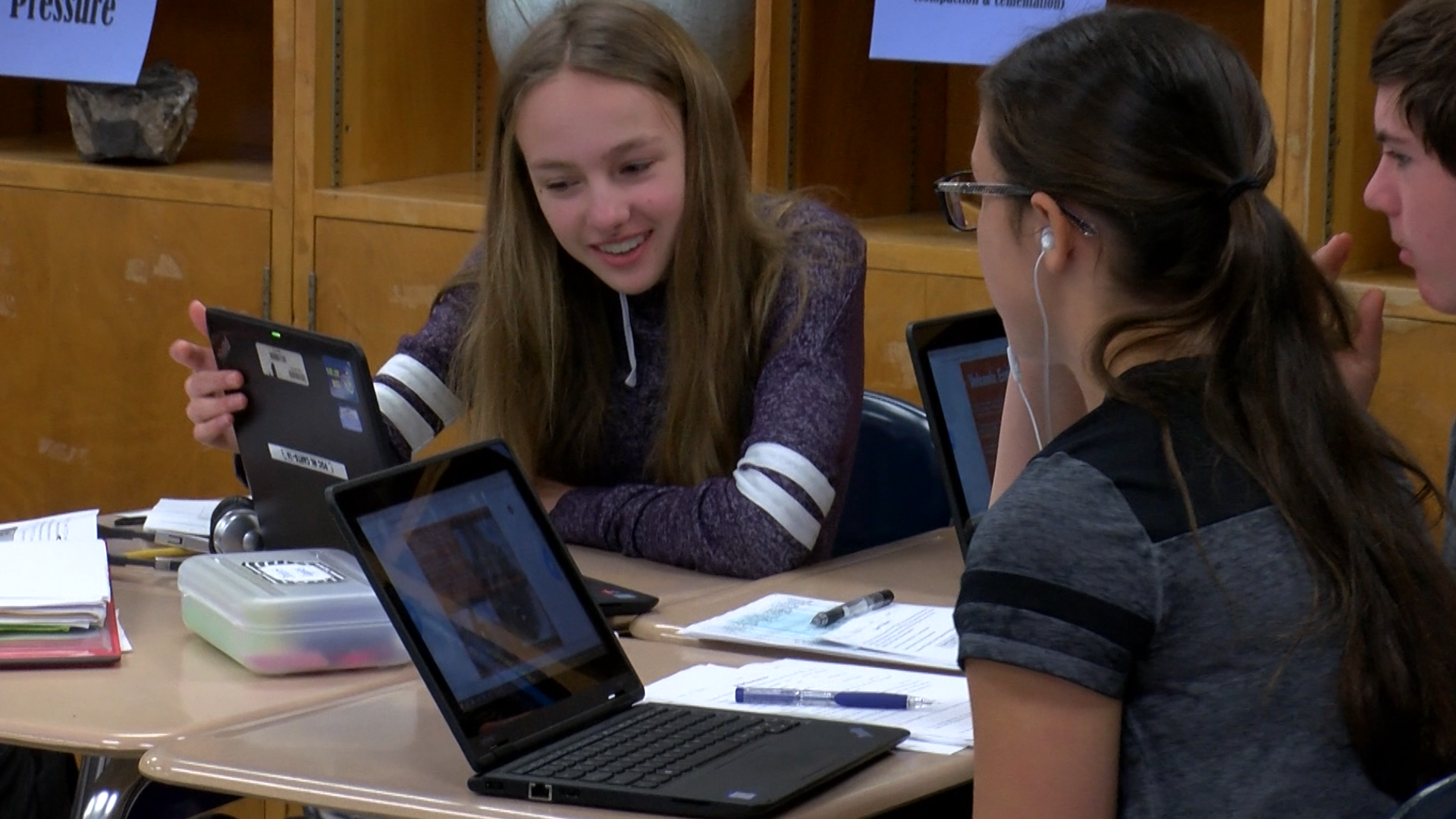 Spring-Ford Area School District is Modernizing Learning

Spring-Ford Area School District is pleased to share an update regarding the student-focused Modernizing Learning initiative. The vision of Modernizing Learning is to maximize student engagement and increase differentiation through the use of technology. Over the past five years, Spring-Ford teachers have been focused on best instructional practice with the integration of technology to help each student grow and achieve academically.  A component of the Modernizing Learning plan is to support the implementation of technology in classrooms with full laptop deployment starting with the current 8th Grade Class in August of 2019. 
"At Spring-Ford, we focus on each student's achievement of clear learning targets and engage with students in learning environments with multiple methods of instruction. Giving our teachers the opportunity to seamlessly integrate technology to maximize student engagement and respond to student needs is helping us achieve the goal of all students becoming college and career ready," said Kimberly Bast, Director of Curriculum and Instruction.
This summer, each student in the Class of 2023 will receive a district-issued laptop. The goals is that these students will use their laptop to:
Master fundamental content essential for high school freshman and 21st Century themes

Focus on creativity, critical thinking, communication, and collaboration for work environments

Create, evaluate, and effectively utilize information, media, and technology

Develop the 21st Century skills, content knowledge, and social/emotional competencies to navigate the requirements as a future-ready learner




 
Over the coming months, students in the class of 2023 and their families will receive more information regarding the plan for the roll out of laptops including updated Board Policies, District Guidelines and FAQs. In the meantime and for the foreseeable future, all of our teachers will continue their professional learning to best integrate technology into strong instructional practice. The Classes of 2021 and 2022 will be receiving devices to start the 2020-2021 school year AND all classes entering the 9th grade center moving forward will be receiving devices for their four years of high-school. The plan for grades K-8 is to continue to increase access to technology for both students and teachers and to continue our focus on preparing our students with 21st Century skills.
Bob Catalano, Director of Technology, said "This is an exciting time in the world of education and technology. I'm looking forward to working with our teachers, students and parents as we deploy these new devices."
SFASD Receives $35K STEM Grant

The Spring-Ford Area School District was recently selected by the Pennsylvania Department of Education to receive a $35,000 grant through the PAsmart Program to grow the current Ram QUEST program in grades 1 through 6. RAM Quest is a class where students engage in authentic learning experiences in which they have to think critically and creatively to solve problems, to inquire, and to explore.
PAsmart is built on the recommendations of Governor Wolf's Middle-Class Task Force, comprised of business, labor, education, and workforce development leaders. In response to the task force's findings, the governor secured $30 million to strategically invest in education and workforce development with competitive grants to enhance the skills of Pennsylvania residents. These competitive grants will expand classroom instruction and professional development in the fast-growing fields of science, technology, engineering and math (STEM), and computer science.
Heidi Rochlin, Math and Science Curriculum Supervisor, completed the grant application for the district. Mrs. Rochlin said, "Grant applications can often be a daunting task, but I really enjoyed this process. I looked at it as an opportunity to focus on our strengths and identify how and where we can grow. Our STEM education is already quite impressive, and now we have additional resources to provide more opportunities for our students. Our targeted grant of $35,000 will be structured so that our Ram QUEST team can experience new and innovative training and materials in order to further implement STEM learning in their classrooms."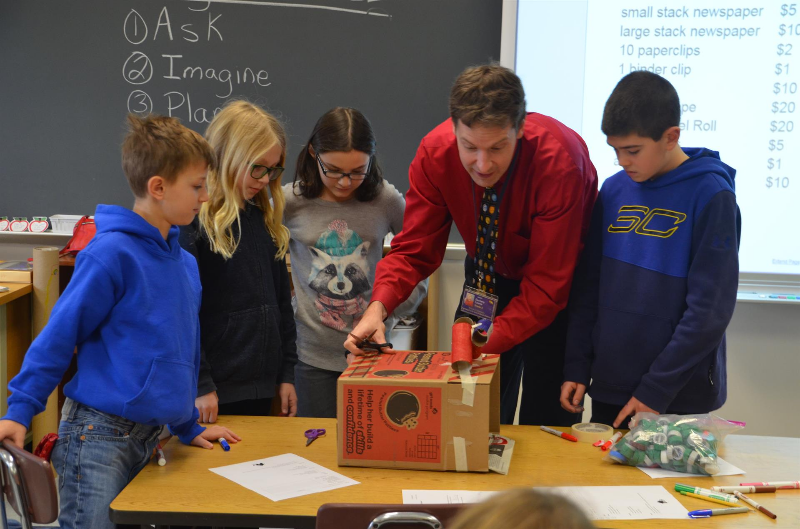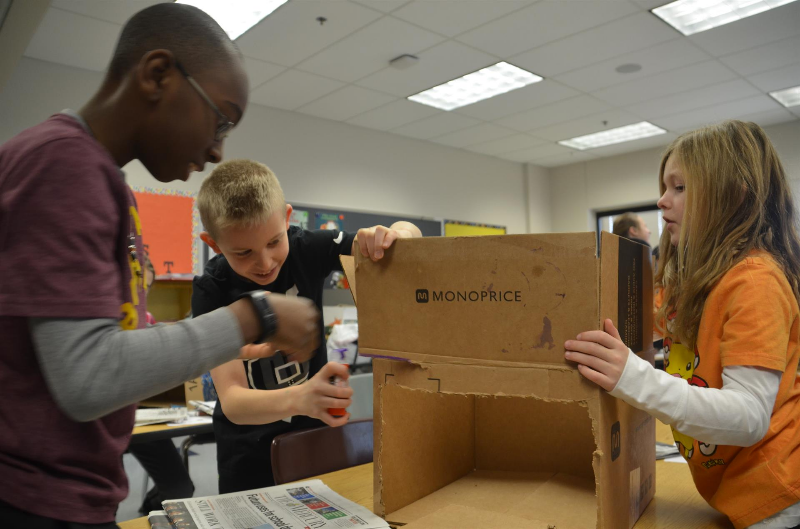 Spring-Ford Fares Well at DECA Competition

Spring-Ford Area High School students recently participated in the PA District 8 DECA Competition. DECA prepares emerging leaders and entrepreneurs in marketing, finance, hospitality, and management fields. With over a 70-year history, DECA has impacted the lives of more than ten million students, educators, school administrators and business professionals since it was founded in 1946. Pennsylvania's DECA programs and activities have constantly evolved by using the latest technology and apply cutting edge educational research.
Spring-Ford's DECA advisor, Robert Swier, said "to say the day was a success would be an understatement! These students were gone from 8 a.m. to 7 p.m. and had the chance to experience something that they would never learn in the classroom. They represented themselves and this district very proudly! There is no better feeling than having students run out of their role plays with excitement, sharing their experience and what they've talked about with their judge."
Congratulations to the following Spring-Ford students who placed in the competition:
Kaitlyn Tran, Principles of Business Management & Administration, 1st Place
Cooper Baun, Principles of Business Management & Administration, 6th Place
Nikhil Dandi, Principals of Finance, 6th Place
Erika Spletzer, Principles of Hospitality & Tourism, 3rd Place
Alek Melenski, Principles of Marketing, 6th Place
Sanna Amanullah, Apparel & Accessories Marketing, 1st Place
Victoria Hanson, Hotel & Lodging Management, 4th Place
Sam Horvath, Entrepreneurship, 5th Place
Jack Kolesa, Retail Merchandising, 6th Place
Click here to watch a Spotlight Video from RCTV.
7th Grade GeoBee Champions

Earlier this month, all 676 students from the Spring-Ford 7th Grade Center participated in the school-level competition of the National Geographic GeoBee. After seven preliminary rounds in social studies classrooms, eight students with perfect scores advanced to the school Final Competition.
Ananya Juneja won first place, with Ethan Black, winning second place and Lachlan Stevens finishing third place.
The other five students competing were: James Bonawitz, Cecilia Boyer, Erika Clemens, Dominick Ferrizzi and Noah Reischel.
The school-level competition is the first round in the annual National Geographic GeoBee, a geography competition designed to inspire and reward students' curiosity about the world. Questions cover not only geography, but also cultures, physical features, history and earth science.
The National Geographic Society developed the GeoBee in 1989 in response to concern about the lack of geographic knowledge among young people in the United States. Over more than three decades, 120 million students have learned about the world through participation in the GeoBee.
School champions, including Ananya Juneja will take an online qualifying test; up to 100 of the top test scorers in each state then become eligible to compete in their State GeoBee. The winners of the State GeoBees receive an all-expenses-paid trip to National Geographic Society headquarters in Washington, D.C., in May to participate in the GeoBee national championship, competing for cash prizes, scholarships and an all-expenses-paid Lindblad expedition to the Galápagos Islands aboard the National Geographic Endeavour ll.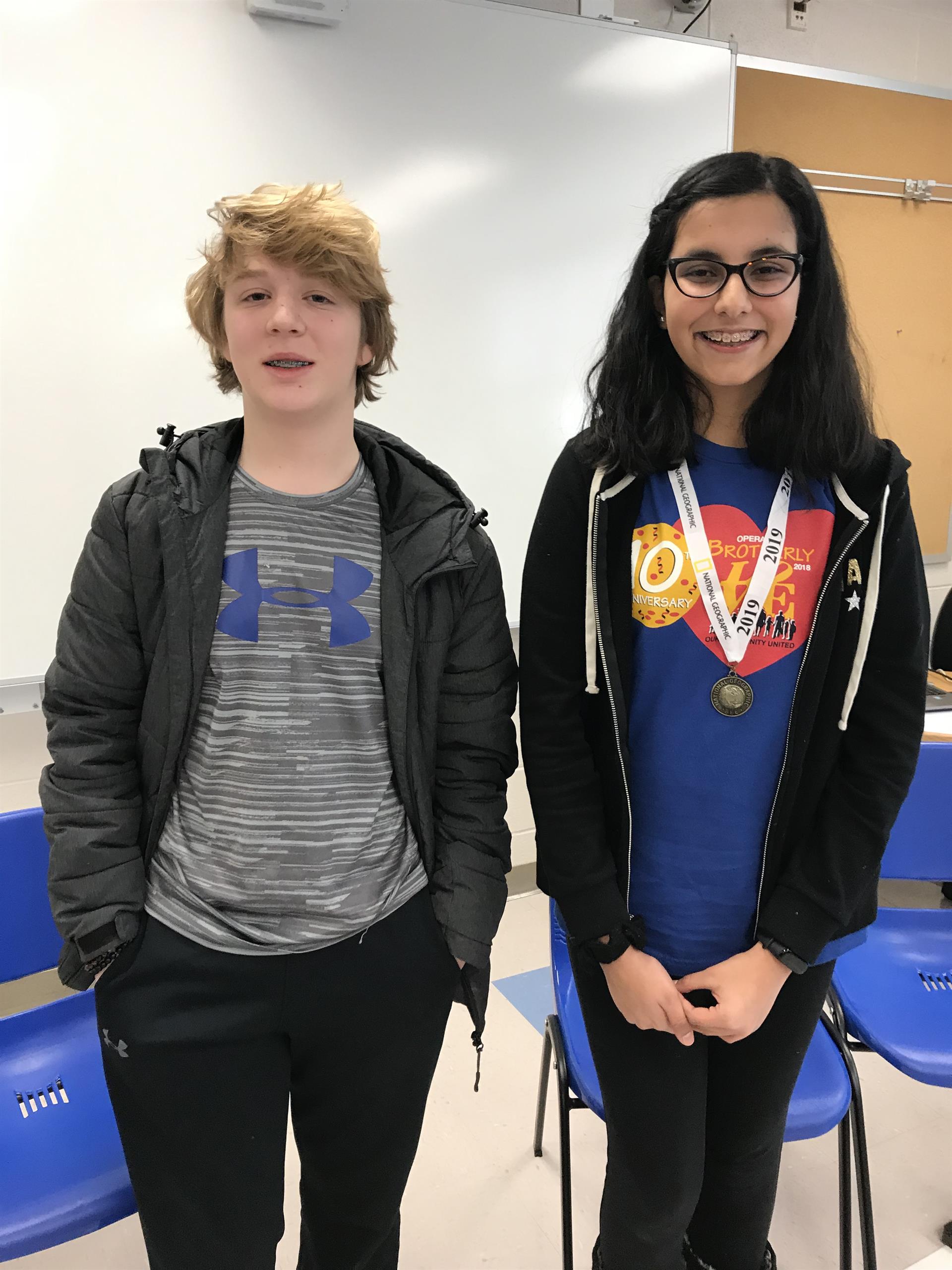 Left: Ethan Black; Right: Ananya Juneja
8th Grade Scholarship Fundraiser

8th Grade Physical Education students were given an opportunity to raise money for the William Racich Scholarship Fundraiser by participating in basketball activities and a "Jumping Jack Challenge." Part of the fundraiser included a chance to win a new mountain bike. This unique fundraiser brought in more than $1,200 towards the scholarship fund.

Ian Turosinski, the lucky winner of a brand new bike!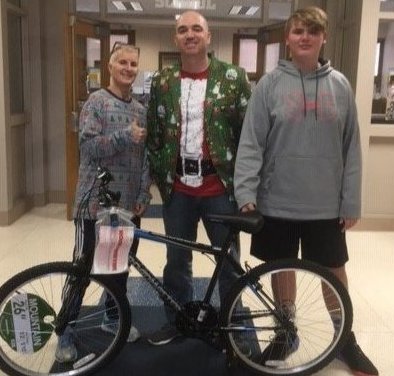 Winter SAP Newsletter

The Student Assistance Program (SAP) is comprised of teachers, guidance counselors, the school nurse, a building administrator, and outside supports. SAP is a state mandated program that is to be in schools. The purpose is to identify students who are struggling or have the potential to struggle academically due to outside factors, such as mental health concerns, drug & alcohol concerns, family concerns, suicide ideation, etc. Click the button below to read the Winter Newsletter.

WMCTC Survey

The WMCTC is soliciting responses from students, parents, and community members to seek information regarding possible program expansion for the 2020 - 2021 school year.
A listing of possible career pathways through Advanced Manufacturing and potential wages is available at the bottom of this survey.
2019-2020 Kindergarten Registration

Children living in the Spring-Ford Area School District who will be five years old by August 31, 2019 are eligible to attend Kindergarten next school year.  Registration will begin mid-February and end on March 29, 2019.
Once the online registration information is complete, parents will be prompted to select a date and time for the appointment, which will be held at their child's elementary school. Parents who are unsure of their elementary school, or are unable to select an appointment, may call 610-705-6120. Click here to make an appointment.
SNAP Basket Raffle
Get Your Popcorn Ready for a Night at the Movies! Tickets are on sale for the 3rd Annual Spring-Ford SNAP Basket Raffle. This year's theme is 'Going to the Movies.' Bring Family, Friends, and Food! Take your chances to win over 150 Fantastic Gift Baskets, Grand Prizes, Door Prizes, and multiple 50/50s. 
DATE: Saturday, March 16, 2019, doors open at 5 p.m.
LOCATION:  Cafeteria of Spring-Ford Senior High School
DETAILS: This is a Non-Alcoholic Event. Participants must be 18 years of age or older.
Order Tickets Directly Online or Fill Out the Reservation Form and submit with payment.
News from the Spring-Ford Booster Club

The Spring-Ford Booster Club is actively seeking Board Member Positions for the 2019-2020 school year. Open positions include:
President

Secretary

Accounts Payable
The next meeting is February 4, 2019 at 7 p.m. in room 169 in 10-12 Building. You are invited to attend the meeting to learn more.
PIAA Letter: Dear Mom and Dad

"If you are the mother or father of a high school athlete here in Pennsylvania, this message is primarily for you. When you attend an athletic event that involves your son or daughter, cheer to your heart's content, enjoy the camaraderie that high school sports offer and have fun. But when it comes to verbally criticizing game officials or coaches, cool it.
Make no mistake about it. Your passion is admired, and your support of the hometown team is needed. But so is your self-control. Yelling, screaming and berating the officials humiliates your child, annoys those sitting around you, embarrasses your child's school and is the primary reason Pennsylvania has an alarming shortage of high school officials.
It's true. According to a recent survey by the National Association of Sports Officials, more than 75 percent of all high school officials say "adult behavior" is the primary reason they quit. And 80 percent of all young officials hang up their stripes after just two years of whistle blowing. Why? They don't need your abuse.
Plus, there's a ripple effect. There are more officials over 60 than under 30 in many areas. And as older, experienced officials retire, there aren't enough younger ones to replace them. If there are no officials, there are no games. The shortage of licensed high school officials is severe enough in some areas that athletic events are being postponed or cancelled—especially at the freshman and junior varsity levels.
Research confirms that participation in high school sports and activities instills a sense of pride in school and community, teaches lifelong lessons like the value of teamwork and self-discipline and facilitates the physical and emotional development of those who participate. So, if the games go away because there aren't enough men and women to officiate them, the loss will be infinitely greater than just an "L" on the scoreboard. It will be putting a dent in your community's future.
If you would like to be a part of the solution to the shortage of high school officials, you can sign up to become a licensed official at HighSchoolOfficials.com. Otherwise, adult role models at high school athletic events here in Pennsylvania are always welcome."
Click here for the full newsletter.
Stop the Bleed Training

Spring-Ford's Police Officers led more than 50 teachers, administrators and support staff members in the district's first Stop the Bleed training.
Stop the Bleed empowers the general public to make a difference in a life-threatening emergency by teaching them the basic techniques of bleeding control.
Chief Boyer said, "bleed control is a lot like CPR, it is a basic life-saving skill that anybody can use at any time. Every Spring-Ford building is equipped with a Stop the Bleed kit, and our training will continue throughout the school year."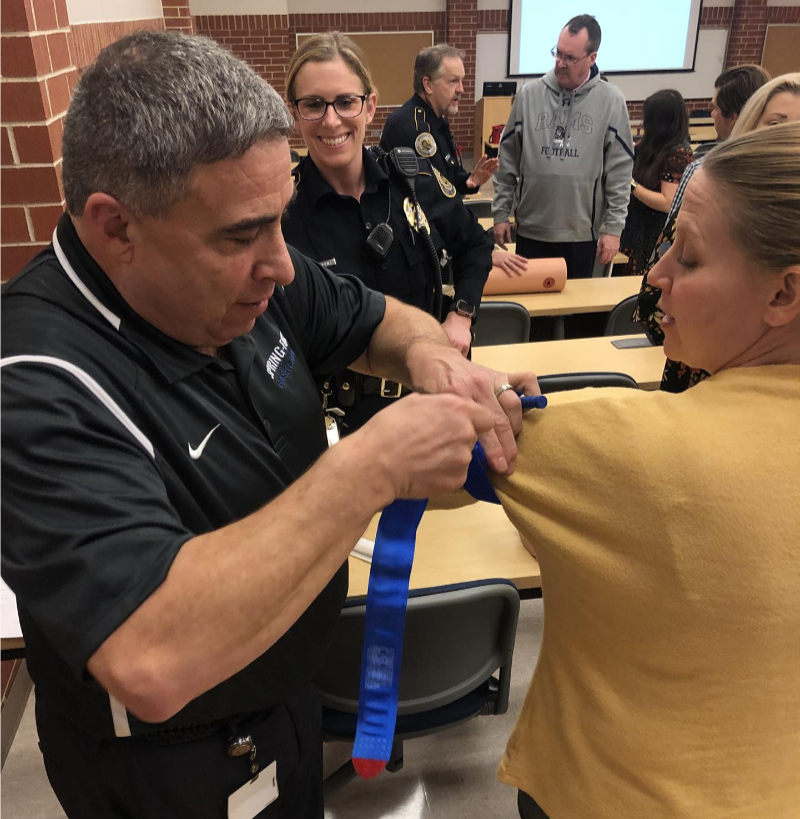 Friday - February 15, 2019
Monday - February 18, 2019
Thursday - February 21, 2019
The Spring-Ford Area School District affirms that no person shall, on the basis of sex, disability, race, color, age, creed, religion, sexual orientation, national origin, ancestry, veteran's status or genetic information be excluded from participation in, be denied the benefits of, or be subjected to discrimination in any educational program or activity. In addition, no person shall, on any of these bases, be excluded from participation in, be denied the benefits of, or be subjected to discrimination in employment, or recruitment, or consideration, or selection therefore, whether full-time or part-time, under any educational program or activity operated by the school district. The district shall make reasonable accommodations for qualified individuals with disabilities upon request. Please contact the Title IX Coordinator (Director of Human Resources) 857 S. Lewis Road, Royersford, PA, or at 610-705-6000 ext. 6124. Refer to Board Policy No. 103 for further information about the district's Nondiscrimination in Participation, Employment, Contract Practices.