BOARD NOTES: January 2019 Recap

School Board Recognition Month


On January 28, Spring-Ford Superintendent, Dr. David Goodin, made a presentation in recognition of the Spring-Ford Area Board of School Directors for volunteering their time for the betterment of public education in our community.

Every January, we take time to celebrate and recognize the challenging and vital work the Board of School Directors do on behalf of our students, families and community. A quality public education is a key that can open doors of opportunity for many students. Providing that education takes a team of committed people from educators and staff to parents and administrators. The nine members of the Spring-Ford Board of School Directors are an important part of this team, making informed decisions that direct the course of our public schools.

School Directors volunteer an average of 20 hours each month to complete board work, which includes adopting policies, voting on budgets, approving curriculum changes, choosing textbooks and reviewing hiring decisions to name a few. They take time to learn about the issues affecting public education and to seek innovative solutions.

The job they do is necessary to ensure our schools remain a pathway to a promising future. Thank them for advocating on behalf of our collective interest, and most importantly, for making the success of our children their priority.

Click here to watch a short Spotlight Video featuring the major initiatives that the Board of School Directors have already supported this school year.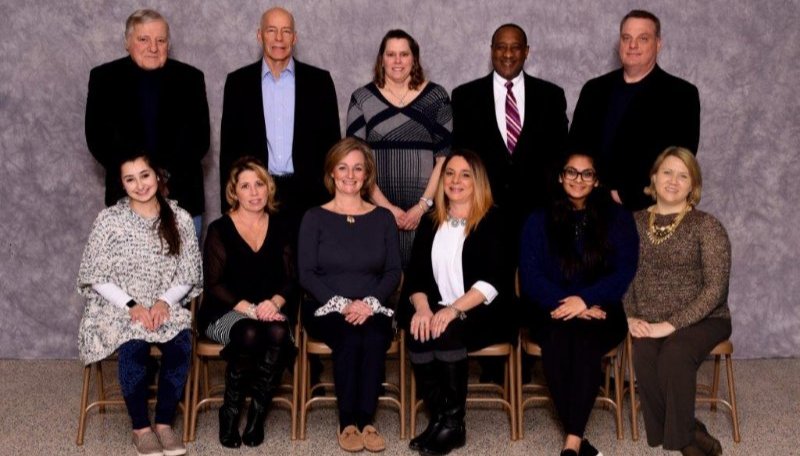 Spring City Elementary School Recognizes Veterans Day

Dr. Melissa Patschke, Spring City Elementary School Principal, and Mrs. Sue Choi, Teacher on Special Assignment, presented on Spring City Elementary School's "Recognition of Our Veterans."

Each year, Spring City students invite Veterans to visit the school for their annual Veterans Day Assembly. "As an educator, and the daughter of a veteran, I feel it is very important to teach our youth about the service and sacrifice the men and women of our country make," said Learning Support Teacher Nina Lee.
Spring-Ford Honors Undefeated Athletic Teams

On January 22, 2019 the Board of School Directors recognized the following Athletic Teams on their undefeated seasons:

9th Grade Football

7th/8th Grade Football (Blue)

8th Grade Boys' Soccer

8th Grade Girls' Soccer

8th Grade Girls' Soccer (Gold)

7th Grade Boys' Soccer (Blue)
Congratulations to these teams and young athletes for a successful season! Click here to watch the full presentation.

7th Grade Boys' Blue Soccer
7/8th Grade Boys' Football

7th Grade Girls' Gold Soccer
Character Counts at Brooke Elementary School

Dr. Robin Moyer, Brooke Elementary School Principal, and Ms. Katie Bates, School Counselor, presented on Brooke Elementary School's "Character Counts" Program.
Character Counts is a pro-social program that infuses Care, Respect, Responsibility, Honesty and Resilience into the regular school day. The program creates a safe learning environment for all students, and helps teachers recognize changing behavior throughout a student's year at Brooke. The program also allows for levels of prevention, including a focus on anti-bullying while providing a strong social and emotional foundation. "Character Counts provides us the opportunity to teach and exemplify the characteristics we want to see in our learners here," said Dr. Moyer.
At the end of the presentation students gave each School Board member a personalized Character Counts post card. Each student identified a character trait that best fit the individual receiving the post card.
TAKE NOTE: IMPORTANT UPDATES
Preliminary Budget Update

On January 28, 2019 the Board of School Directors approved the 2019-2020 Proposed Preliminary Budget. Earlier this year, Mr. James Fink, Spring-Ford Area School District CFO, provided an in-depth budget presentation.

"There are a lot of unknowns when we start working on the budget, which is really only four months into the fiscal year and two months into the school year," said Mr. Fink. "During the next few months the Business Office will do a deep dive to look at each line in each department so that we may build the budget from the ground up. We have a lot of work ahead of us to work towards a balanced budget."
The final budget timeline will follow the dates below:
Proposed Final Budget Presentation: April 15, 2019

Adoption of the Proposed Final Budget: April 23, 2019

Make Available for Public Inspection: May 7, 2019

Notice of Intent to Adopt Final Budget: May 17, 2019

Adoption of Final Budget: May 28, 2019
Click here to view the Proposed Final Budget Presentation from November 2018.


On Board with Tom DiBello

On this episode of On Board, Tom DiBello and Andrew Rothermel welcome special guests from Spring-Ford's Parent Organizations.
Hear from Spring-Ford SNAP, Spring City Elementary Home & School, Spring-Ford Booster Club, Spring-Ford Area High School Home & School, and the Spring-Ford Music Association as they discuss how their groups play a role in the daily lives of Spring-Ford students. 
Water Testing Updates

The health and safety of all students and staff is the top priority for Spring-Ford Area School District. Recent changes in the Public School Code have focused attention to water quality issues in Pennsylvania Schools. Though Spring-Ford has absolutely no evidence of water quality issues in any school or building, it is the Board's goal to ensure that our water is safe for consumption. With this in mind, SFASD is proactively testing the drinking water in each of our 11 school buildings as well as the District Office. Testing began on December 22, 2018 and was completed by the end of January 2019. Detailed information is available at spring-ford.net under the Water Testing page.
Policy Update

The following policies were approved this month:

Policy #006 – LOCAL BOARD PROCEDURES: Meetings

Policy #217 – PUPILS: Graduation Requirements
Click here to view the full agenda, and additional School Board policies and documents.
The Spring-Ford Area School District affirms that no person shall, on the basis of sex, disability, race, color, age, creed, religion, sexual orientation, national origin, ancestry, veteran's status or genetic information be excluded from participation in, be denied the benefits of, or be subjected to discrimination in any educational program or activity. In addition, no person shall, on any of these bases, be excluded from participation in, be denied the benefits of, or be subjected to discrimination in employment, or recruitment, or consideration, or selection therefore, whether full-time or part-time, under any educational program or activity operated by the school district. The district shall make reasonable accommodations for qualified individuals with disabilities upon request. Please contact the Title IX Coordinator (Director of Human Resources) 857 S. Lewis Road, Royersford, PA, or at 610-705-6000 ext. 6124. Refer to Board Policy No. 103 for further information about the district's Nondiscrimination in Participation, Employment, Contract Practices.