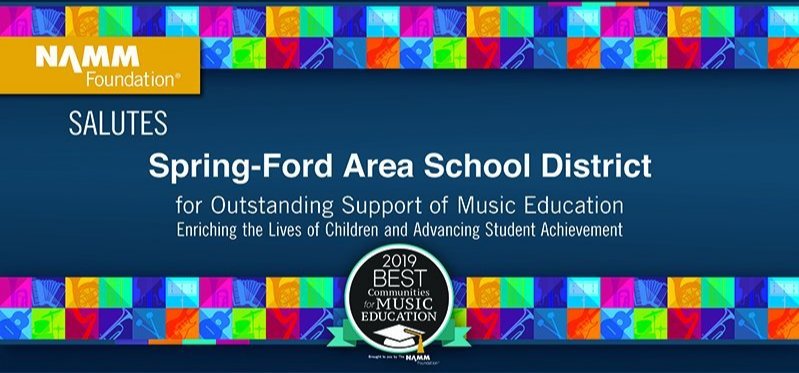 SFASD: Best Community for Music Education

For the third year in a row, the Spring-Ford Area School District has been honored with the Best Communities for Music Education designation from the NAMM Foundation for its outstanding commitment to music education!
The Best Communities for Music Education designation is awarded to districts that demonstrate outstanding achievement in efforts to provide music access and education to all students. To qualify for the Best Communities designation, Spring-Ford answered detailed questions about funding, graduation requirements, music class participation, instruction time, facilities, support for the music program, and community music-making programs. Responses were verified with school officials and reviewed by The Music Research Institute at the University of Kansas.
Special thanks to the students, parents, board members, administrators and teachers in the Spring-Ford community who have worked so hard to make the Spring-Ford music program a success!
Celebrating Pi Day

What exactly is Pi? Take any sized circle, measure its circumference and divide it by the length of its diameter. What do you get? 3.141592653.... every time!
On March 14, 2019 more than 250 sixth grade students participated and memorized a combined 11,903 digits for the annual Pi Day Competition. The competition first began at the Classroom Level with the top two winners from each homeroom advancing to the Team Level portion of the competition.
Congratulations to our 3rd place winner Christiana Tiffan; 2nd place winner Aryan Shivpuje; and Grand Champion: Daniel Chu (450 digits)! A special "thank you" goes out to all of the 6th grade math teachers who made the competition possible. This year's contest was sponsored by the Osisoft Corporation.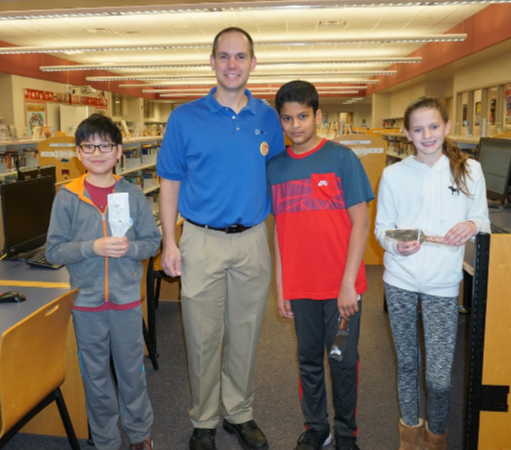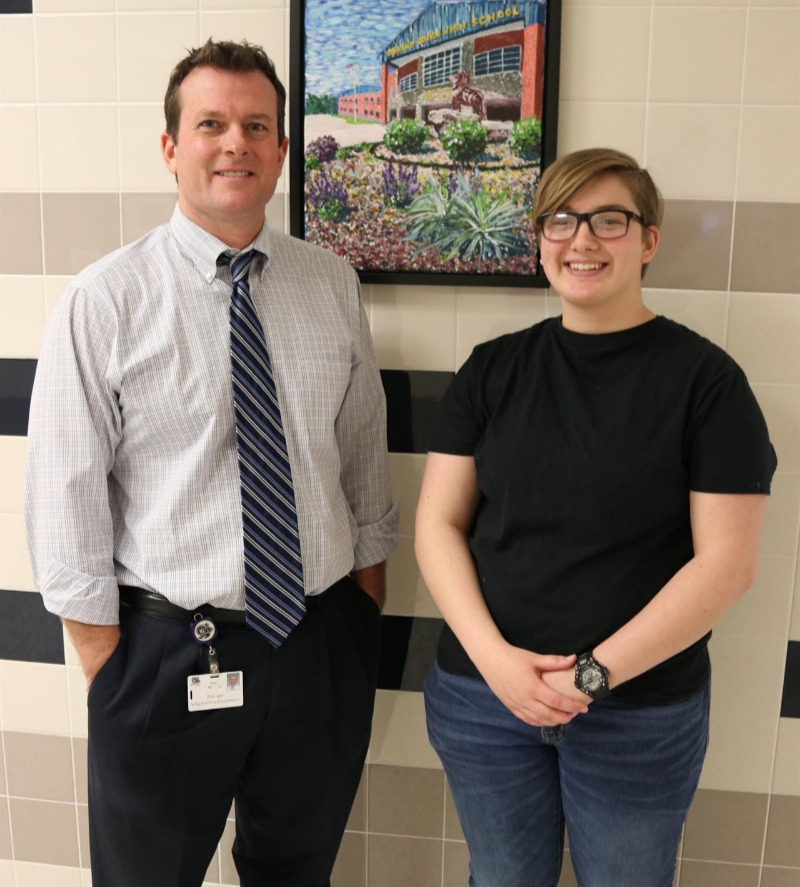 High School Leadership Award Recipient

Congratulations to Spring-Ford Area High School Junior, Lillian Evasew, recipient of a $20,000 scholarship to Widener University!
Each year, principals of high schools in Pennsylvania, New Jersey, and Delaware are encouraged to identify a current high school junior who has demonstrated courage by standing up for what is right, found a way to address a wrong, or made a difference in a significant way in their school or community. Each year winners are recognized at the National Constitution Center and invited to participate in a leadership development conference at Widener.
As a recipient, Lillian will receive a $20,000 scholarship to Widener University over four years and will be named an Apogee Scholar, should she enroll at Widener. As an Apogee Scholar, Lillian will participate in a leadership development program in the Oskin Leadership Institute, which will include earning a Widener Leadership Certificate and participating in a variety of on-campus leadership development activities.
"Touch the Future" Winner

Congratulations to 11th grade Advanced Jewelry student, Supawit Boonpeng, for his First Place win the Touch the Future art show jewelry category.
The "Touch the Future" art show is a professionally juried art exhibit featuring the works of Bucks and Montgomery county public high school students. Sponsored by the Mideastern Region of the Pennsylvania State Education Association (MER/PSEA) and the Council for the Advancement of Public Schools (CAPS), the show began as a tribute to Christa McAuliffe, NASA's teacher in space who died aboard the Space Shuttle Challenger. McAuliffe's motto was "I touch the future…I teach."
This year, the event juried in 350 pieces from 30 public high schools. Winning students took home more than $2,200 contributed by PSEA/MER, a $100 prize from the Selma Burke Sculpture Award, Inc., and scholarships from Arcadia University. Pieces included traditional and digital photography, computer graphics, drawings, paintings, ceramics, mixed media and sculpture.
The show displays area students' talents and artistic abilities, and is a tribute to the work of our public high school art teachers.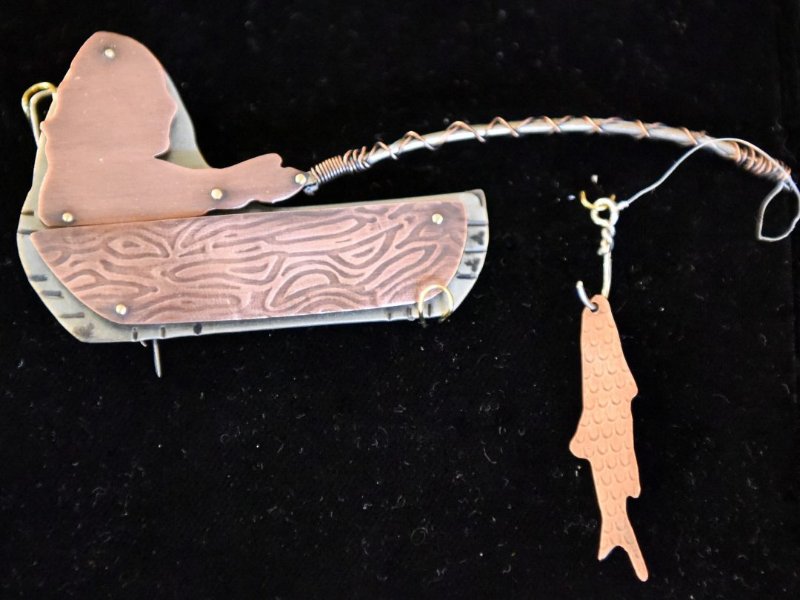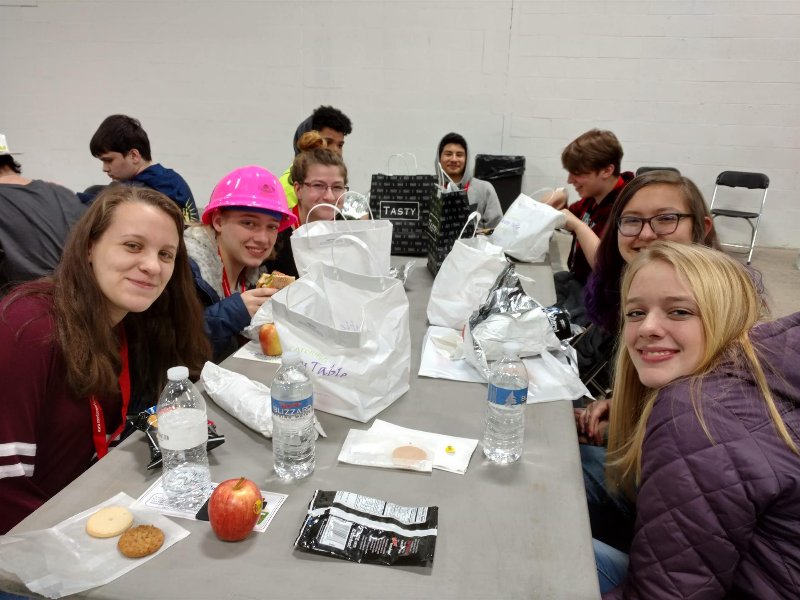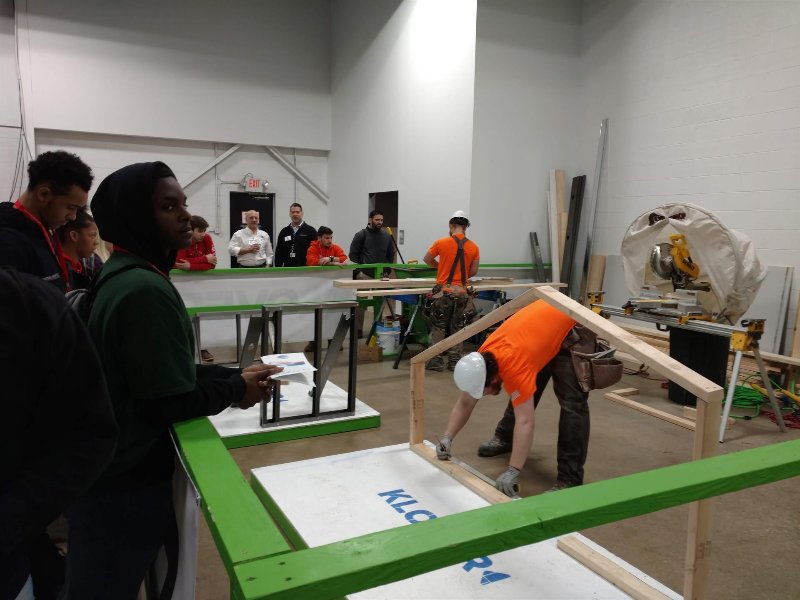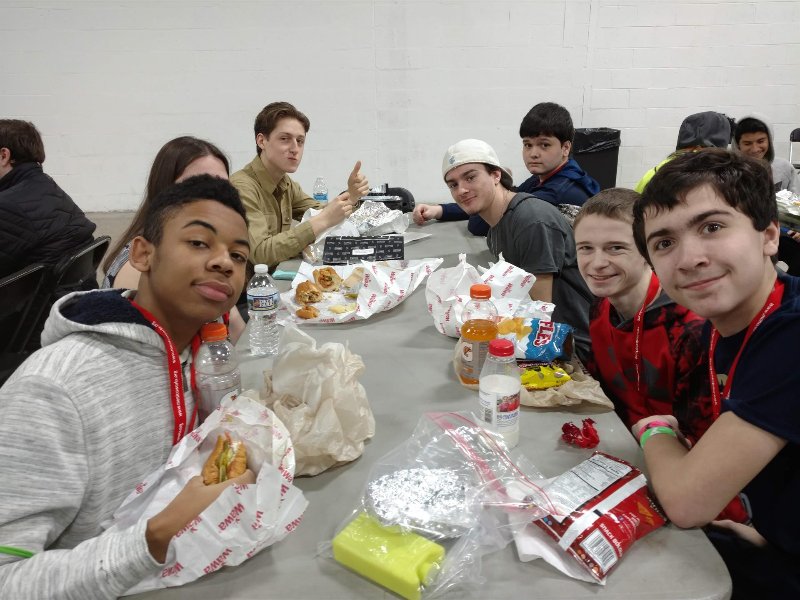 SFASD Attends ManuFest + More

ManuFest and More was held on March 12, 2019 and included an expo of local and regional employers from the manufacturing industry and construction trades. Exhibitor demonstrations and hands-on activities highlighted the high paying jobs available in manufacturing and construction trades and the skills needed to obtain them. The event was attended by over 1,200 students along with parents and educators.
Spring-Ford's College and Career Coordinators attended the event with students so that they could learn about career pathways in manufacturing including design, engineering, machinist, sales, marketing, customer service, accounting, and more. Attendees also gained insight into the modern world of manufacturing.
Student Carmen Murphy said, "I went to this event knowing it was a job fair, but I didn't know how to expect. I stopped by almost every booth, introduced myself to them and asked about the business and where they were located. Some booths did not seem appealing to me, and some seemed very interested and asked for my email so I could communicate with them down the line. I even found out that some companies have an internship and could pay for part of my college tuition."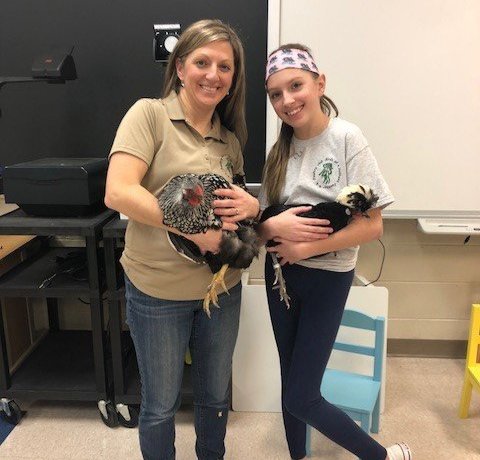 4H Presentation at Evans Elementary School

Rhiannon Zimmerman, teacher at the 8th Grade Center, and her daughter Sophia Zimmerman, a current 7th grader, presented at the Animal Lover's Club, a club held at Evans Elementary School and run by guidance counselor Mrs. Sullivan and school psychologist Ms. Heyl. Mrs. Zimmerman and her daughter are part of the Birds of a Different Feather Poultry Club sponsored by the Montgomery County 4H program. The Zimmerman's brought four chickens with them for the kids to see and pet. The students learned about different breeds of chicken and how to care for chickens in their own backyards. They also got to see the inside of an egg by a process called "candling" and learned how to tell if eggs are old and shouldn't be used.  In addition, students had the opportunity to make a fun "chicken" craft to take home with them. 
Click here to learn more about the Montgomery County 4H program.
RCTV Couch to 5K Program

Registration is open for the 6th Annual Spring-Ford Educational Foundation 5K Run/Walk and Kids Fun Run! 

Not sure if you're ready to run a 5K? Join RCTV each week for their special Couch to 5K program featuring your favorite runners from Spring-Ford schools! The Spring-Ford Couch to 5K is an 8-week program designed for first time runners or those who are looking to get back into running but need a little guidance. The goal is to have all walkers and runners able to complete a 5K just in time for the Spring-Ford event! 
WHEN: Friday, April 26, 2019 starting at 6:30 p.m.
WHERE: Spring-Ford Rea High School
REGISTER: Click here to print and mail your form. Click here to register online.
The Spring-Ford Educational Foundation 5K benefits the Senior Impact Dinner.
Beginning with the class of 2006, SFASD has honored individuals nominated by graduating seniors who have made an impact on their educational experience. A recognition event is held for nominees and the students who nominated them to celebrate how each individual has impacted his/her life.
DISCLAIMER: Before getting started down the 5K path, it is important to get a full check out from your doctor. This training guide is based on personal experience and is not currently endorsed by any sports clinic or doctor. Listen to your body and follow along your own risk.
Scholarships from Spring-Ford Organizations:
Booster Club Scholarships

Spring-Ford Alumni Scholarship

Spring-Ford Education Association Scholarship

Spring-Ford Educational Foundation
Scholarships from Spring-Ford Elementary Schools:
Brooke Elementary Scholarship

Oaks Elementary Scholarship

Upper Providence Elementary Scholarship

Evans Elementary Scholarship

Spring City Elementary Hybrid Learning School Staff Scholarship

Limerick Elementary Scholarship

Royersford Elementary Scholarship
Need-Based Grant:
Scholarship from very generous members of the Spring-Ford community:
Spring-Ford Chamber of Commerce

The Gulati Family Foundation Scholarship

Julianne Leigh Siller Scholarship (password: gorams2019)

Nurse Laura Murphy Scholarship

Ronald B. Clark Memorial Scholarship

Dayna Lynn Sperring Scholarship

Conor McKenna Courage Award

Steve Bonetz Memorial Award

Zach Stewart Memorial Award

Democratic Public Education Award

The William Racich Memorial Scholarship (see your phys. ed. instructor for information)
SAVE THE DATE: UPCOMING EVENTS

SNAP Community Walk Thru

Spring-Ford SNAP opens the doors on April 27, 2019 for a sneak peek of this year's Post-Prom Event! The entire Spring-Ford community is invited to visit see the school transformed, play games, leave messages for students and more!
This year's Post-Prom event is right around the corner and Spring-Ford SNAP needs your help to make it happen. Please consider donating a few hours of your time over the weekend of April 27-28. Note, volunteer clearances are required.
This event is FREE and Family Friendly! 
Spring-Ford Chamber of Commerce

Join area businesses for the Spring-Ford Chamber of Commerce Dine For Education event. This event will be hosted by the Spring-Ford Chamber of Commerce and the Western Montgomery Career and Technology Center and will be a fundraiser for the Spring-Ford Chamber Education Fund. Buffett Dinner, Raffles, 50/50's and entertainment.
WHEN: Wednesday, March 27, 2019
WHERE: Western Montgomery Career and Technology Center
COST: $25 per person
Limerick Basket Bingo

The Limerick Home & School League is proud to present it's first ever Designer Bag & Gift Card Bingo event on Saturday, April 27th. Doors open at 6 p.m., Bingo starts promptly a 7 p.m.
WHEN: Saturday, April 27
WHERE: Limerick Elementary School
DETAILS: Individual tickets and tables are available.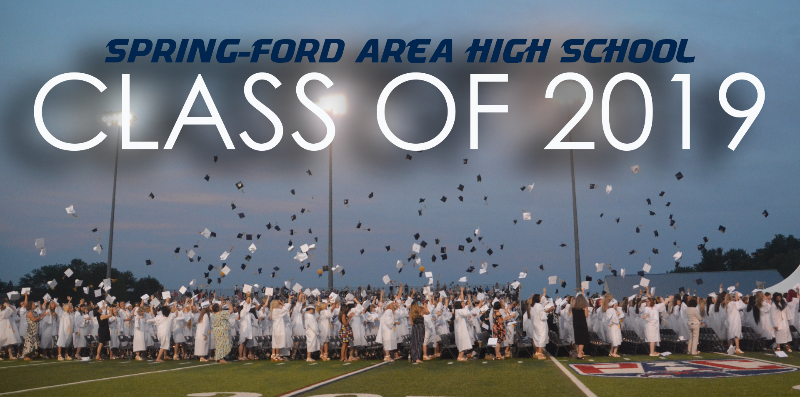 2019 Commencement Ceremony

Spring-Ford Area High School's Graduation Ceremony will be held on Wednesday, June 13, at 7 p.m. - rain or shine! The location is dependent upon the weather. If the skies are clear, the ceremony will take place outside in Coach McNelly Stadium. If inclement weather, the ceremony will take place in the 10-12th Grade Center. Click here to follow updates posted to Facebook.
Save the Date: Cool School

Save the date for 2019 Cool School! Courses will run from June 24, 2019 – July 18, 2019. This program is open to all elementary students. Additional information and registration links will be sent to families in early April.
UPES Corn Hole Tournament

The Upper Providence Home & School Association has teamed up with UPES teachers to plan a fun, exciting, Adult-Only event for the community. 
WHAT: Basket Raffle and Corn Hole Tournament
WHEN: Saturday, April 27, 2019
DETAILS: Please click here for a registration form with details on the time and location, and information on how to register for both the Basket Raffle and the Corn Hole Tournament! Make sure to mark your calendars and book a babysitter! You won't want to miss this exciting event!
Dan Leppold, Featured on Penn Museum Blog

Dan Leppold, SFAHS Teacher, and his students were featured on the Penn Museum blog. Click here to read the full post.

"Forget about Freddy Mercury. Forget about Chuck Berry. In the good old days, long before the days of the idol on the stage, humanity looked to the natural world for help in satisfying their cravings for idolatry. Thousands of years ago, the people of ancient Egypt—who lived in one of the world's most advanced early societies—used a variety of materials to create artifacts representing religious figures and scenes. Those that remain today were preserved either through exceptionally fortunate environmental circumstances or through the brute strength and durability of their constitutive elements.
Recently, I became acquainted with Dan Leppold, a science teacher at Spring-Ford High School in Royersford, PA who teaches an advanced geology class made up of 11th- and 12th-grade students. We came up with an activity for his class based on these particular stone objects, wherein they were asked to identify the type of stone present in each object by examining the objects' photos. Their results are in, and they're fascinating! Let's take a look at what they found, and talk a little about the ancient Egyptian pantheon while we're at it."
The Spring-Ford Area School District affirms that no person shall, on the basis of sex, disability, race, color, age, creed, religion, sexual orientation, national origin, ancestry, veteran's status or genetic information be excluded from participation in, be denied the benefits of, or be subjected to discrimination in any educational program or activity. In addition, no person shall, on any of these bases, be excluded from participation in, be denied the benefits of, or be subjected to discrimination in employment, or recruitment, or consideration, or selection therefore, whether full-time or part-time, under any educational program or activity operated by the school district. The district shall make reasonable accommodations for qualified individuals with disabilities upon request. Please contact the Title IX Coordinator (Director of Human Resources) 857 S. Lewis Road, Royersford, PA, or at 610-705-6000 ext. 6124. Refer to Board Policy No. 103 for further information about the district's Nondiscrimination in Participation, Employment, Contract Practices.