RAM REVIEW: May/June 2019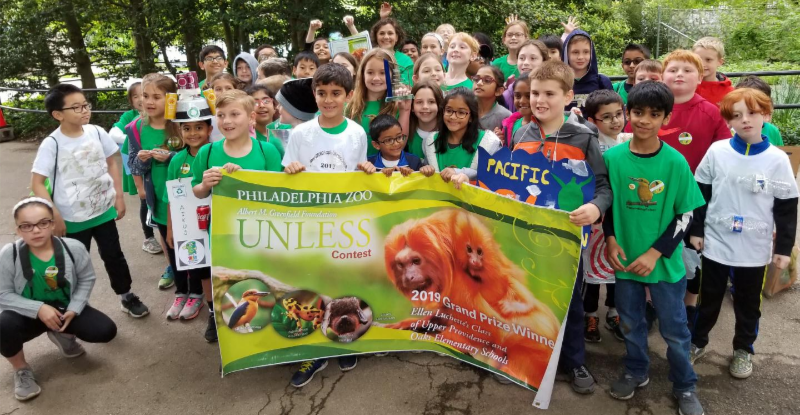 Spring-Ford Student Group Focuses on Environmental Awareness
Upper Providence and Oaks elementary gifted support teacher, Ellen Luchette, and her students joined students across the tri-state area to learn about global warming, the environment, marine debris, and recycling. Their hard work and months of research paid off, as the team of students won First Place in the UNLESS Contest!
The Albert M. Greenfield UNLESS Contest creates awareness that inspires solutions and actions to impact the future of wildlife. The Philadelphia Zoo has engaged more than 10,000 schoolchildren from more than 200 schools in the Delaware Valley region as part of this initiative. Together with these students, the Zoo has worked to address major conservation issues affecting wildlife and inspiring action.
Following the application process and over the course of their project, participating classes had the opportunity to visit the Zoo and participate in virtual classes to learn about their conservation topic and how to take action for wildlife. Mrs. Luchette's students visited the zoo on January 20, 2019 where they met the four endangered animals that they, as a class, are raising awareness. Since then, they held fundraisers, educated their classmates, and put-on a play for teachers and parents.

Spring-Ford Gifted Teacher, Ellen Luchetti, said "I am so proud of my UPE and Oaks students who won the Grand Prize in the Philadelphia Zoo's Unless Contest. Over 200 schools in the area worked to raise awareness about endangered animals and the environment. The contest sparked a passion in my students, which has become a major force in our lives. 'Unless' became a lens through which both students and teachers view the world around us; it has empowered all of us to make a difference that will affect generations to come!"
2018-2019 End of Year Information

Welcome to the end of the 2018-2019 school year!
June 14, 2019: Last day of school for all students

June 14, 2019: Commencement at 7 p.m.

June 21, 2019: Report cards will be available on Skyward after 4 p.m.

June 24, 2019: Cool School, Week I begins

July 8, 2019: Cool School, Week II begins

July 15, 2019: Cool School, Week III begins

August 7, 2019: Back-to-Spring-Ford Parent Night
For those families who will be returning for the 2019-2020 school year, school will begin on Monday, August 26, 2019.
Nutritious free meals are available for children and teens 18 and younger at many locations throughout the nation throughout the summer while school is out of session. Click here to find a site near you. To find a meal site near you during the summer months:
Call 211




Call 1.866.3.Hungry or 1.877.8Hambre




Text "FOOD" or "COMIDA" to 877877
Commencement Information
Spring-Ford Area High School's Commencement Ceremony will be held on Friday, June 14, at 7 p.m.


Due to the large number of attendees, small purses, diaper bags, camera bags and medical bags will be allowed but subject to search. No backpacks or large bags will be allowed.

Watch the full Commencement Ceremony LIVE on Ram Country TV Comcast Channel 969 and Verizon Channel 44 starting at 7 p.m. A live video stream will also be available on Facebook Live and the RCTV Home Page, simply click play at 7 p.m.

Parking at the 9th Grade Center and 10-12 Grade Center is limited. A shuttle will run from the 5/6 Grade Center beginning at 5:30 p.m. Shuttle service will continue through the start of graduation, and will resume immediately following the ceremony. Click here to view a parking map.

SFAHS Junior Attends Duke University Summer Session
Spring-Ford Area High School junior, Anthony Zygmunt, applied to and was accepted into the Duke University Summer Session for High School Students, specifically the Accelerated STEM (Science, Technology, Engineering and Math) Academy. This is a highly competitive program with participants from across the globe (28 countries were represented in the 2018 program). 
Students who have been accepted to this elite program spent their summer alongside the next generation of innovators at Duke University's Accelerated STEM Academy and engage with some of the world's top researchers. During this program, they will explore Duke's state-of-the-art laboratories, learn about trailblazing research, and experience the life of a researcher.
Congratulations, Anthony!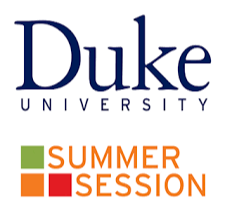 Class of 2020: Let's Start Planning!
It's never too early to meet with your College Career Coordinator in the Future Planning Center (FPC)! The FPC will be hosting meetings throughout the summer for class of 2020 seniors. Interested students can sign up to schedule a meeting to discuss plans for after high school:
Last Names A-K: Mrs. Benner
Last Names L-Z: Mrs. Sussman
The Future Planning Center (FPC) is here to help parents and students determine the steps necessary to meet your college and career goals. College Career Coordinators encourage you to utilize the FPC during your study halls to research colleges, majors, careers, work on applications, essays, etc. The College Career Coordinators are available in the FPC for students before school, during school, and after school each day.

Final Tiles: Upper Providence Elementary School Mural Project
There's been a lot of tile making going on this past school year at Upper Providence Elementary School!
Recently, fourth grade students have been rolling clay tiles and painting them with glaze with the hope of expressing a sense of garden beauty in their courtyard. The project consists of three circular mosaics involving children learning at play. The students have been working with professional artist Jessica Gorlin Liddell. She knows first-hand the therapeutic quality and joy of collaborative artistic endeavors having worked on mosaic projects in schools throughout Spring-Ford School District.
The project also gave students a chance to share the process with their peers. UPES Art Teacher Suzanne Bowman and the UPES Home and School Association orchestrated the project's success. Art's Alive! Robyn Burckhardt was the coordinator for the project with the support of the Home and School Association.
The mosaic will hang on the exterior of the building in their courtyard as an example of what can be accomplished by students unified by a common artistic goal. The goal is for them to carry the spirit of collaboration with them.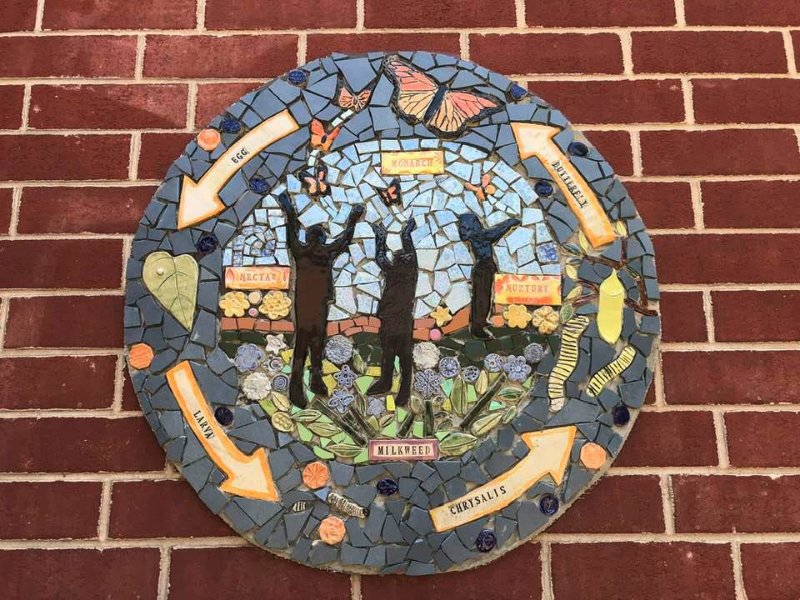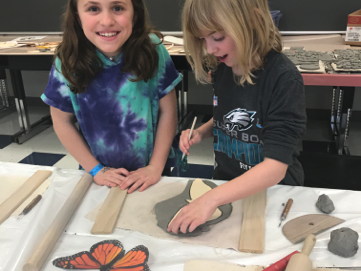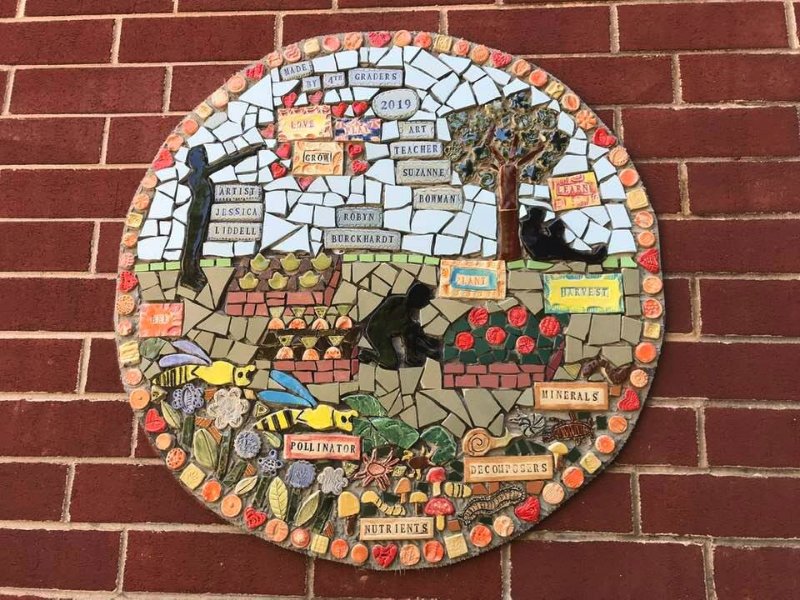 Getting Cozy at Evans Elementary School
Evans Elementary third grade Brownie Troop 7107 spent several meetings this year working on the Brownie Quest Journey. For their Take Action project, the girls decided to create a cozy reading corner for the students at Evans Elementary School. The troop came up with some great ideas which we presented to John Raber, Evans Elementary Reading Specialist, and Jacqueline Havrilla, Evans Elementary Principal.
Mr. Raber and Mrs. Havrilla were truly grateful, and are so proud of our girls' hard work and efforts this year. The cozy corner will be something Evans students will enjoy for many years to come!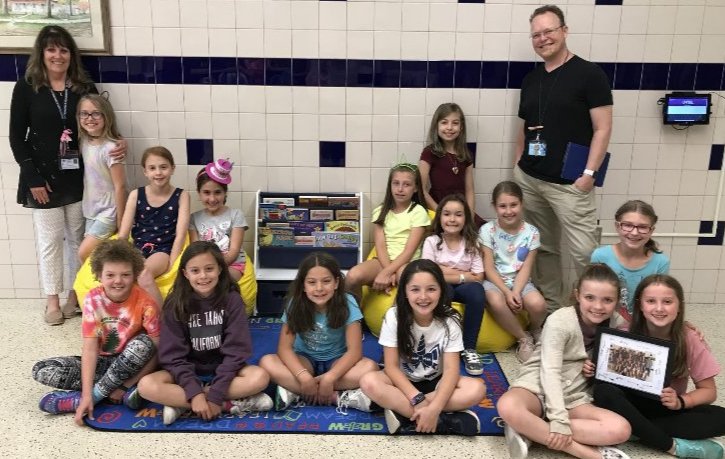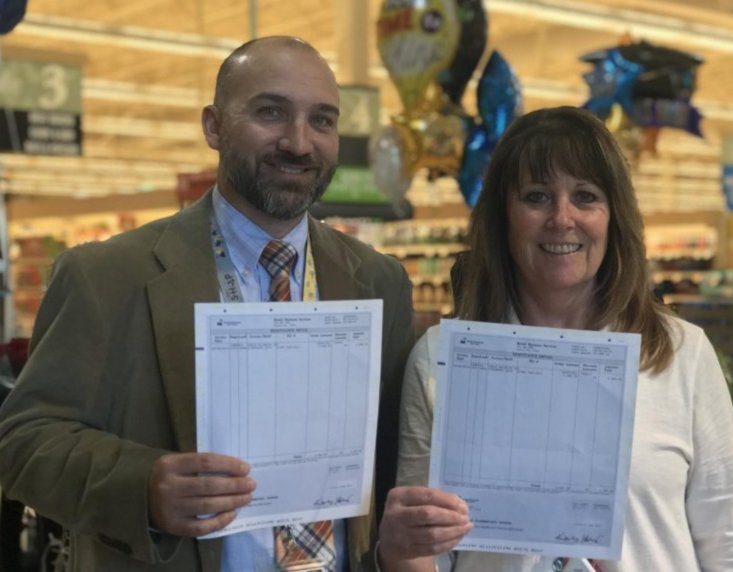 More than Just Gas Points, Giant's A+ Reward Program
There are so many ways for Spring-Ford families to help raise money for their school without spending any extra time or effort. One of those ways is though the Giant A+ School Rewards Program. Throughout the year, parents who have been shopping at Giant with their registered bonus cards have been earning money for their school.
Congratulations to Brooke Elementary School Home & School Association and the Evans Elementary Home & School Association - along with their  school community - for being two of the highest earning schools in our area!
Click here to learn more about the A+ School Rewards program, and get ready to put your grocery dollars to work in the 2019-2020 school year!
Komen Philadelphia "More than Pink Walk"
On May 12, 2019, nearly 10,000 activists braved the wind and rain to celebrate their survivor loved ones, support the metastatic breast cancer community, honor the memories of those lost and to accelerate the path to ending breast cancer forever. Participants said "good-bye" to a competitive 5K and embraced Susan G. Komen Philadelphia's new Community Walk as an opportunity to make new connections, strengthen friendships and feel the power of one united community moving forward—together—in the fight to end breast cancer!

Special thanks to the Spring-Ford School District Employees and Friends team for raising more than $5,600 this year!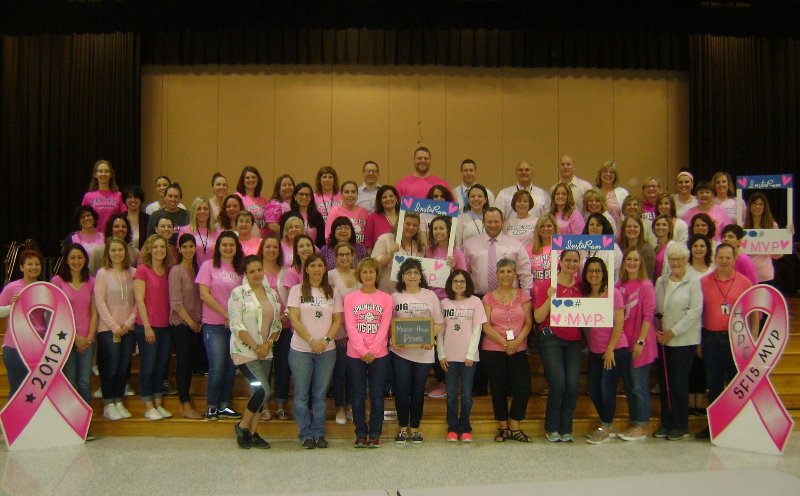 2019 Senior Impact Awards
On Thursday, May 16, 2019, Spring-Ford seniors applauded the teachers, school counselors, support staff and administrators who made an impact on their lives at the 14th Annual Senior Impact Awards. This year, nearly 300 students honored more than 120 current and retired Spring-Ford Area School District employees.
"This night is so meaningful," said Aimee Oblak, Spring-Ford Area High School teacher. "I've worked with these students for the past three years, and now we get to spend some time together outside of the classroom to reminisce, talk about their future plans, and laugh together. I look forward to the Impact Awards each year!"
"I 'impacted' Mrs. Oblak because she provided a wonderful space to grow and learn every year. She would always challenge me to be the best I could be and has been one of my biggest supporters throughout high school. I am forever thankful for her guidance and passion," said Spring-Ford Senior Erica Love.
Andrew Rothermel, Manager of Communications Media, said, "This is the third year that I've received an Impact Award, and each year I feel honored to be selected. I get to work with high school students through the Ram Country TV (RCTV) Club, so to be recognized as having an impact is really meaningful."
Began in 2006, the Senior Impact Awards provides graduating seniors an opportunity to publicly acknowledge the influence of a Spring-Ford staff member. This annual event is funded by the Spring-Ford Educational Foundation 5K Run/Walk, which is held each April.
SFAHS Welcomes Mike Sielski

Spring-Ford Area High School journalism students had a special visitor this Spring! Mike Sielski from the Inquirer stop Mr. Paul Moser's journalism class to discuss the journalism field, sports writing, and column writing.
Mike Sielski has been a sports reporter and columnist since 1996 and currently works as the lead sports columnist for the Philadelphia Inquirer and Daily News. Among the many awards he's won over the years, the Associated Press Sports Editors named Mike the top sports columnist in America in 2015.
In addition to his newspaper work, he is the author of two books, including Fading Echoes: A True Story of Rivalry and Brotherhood from the Football Field to the Fields of Honor. Mike co-authored How to Be Like Jackie Robinson: Life Lessons from Baseball's Greatest Hero as well. Mike has also appeared on ESPN, The NFL Network, NBC Sports, National Public Radio, and other national and regional TV and radio programs.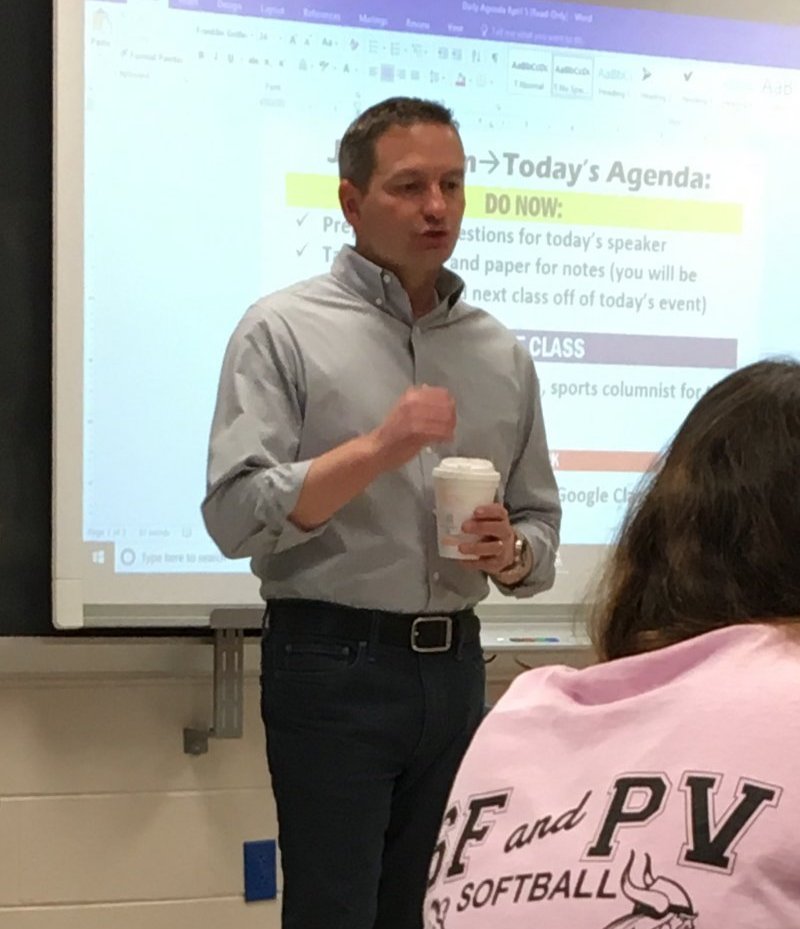 Wednesday - June 26, 2019
The Spring-Ford Area School District affirms that no person shall, on the basis of sex, disability, race, color, age, creed, religion, sexual orientation, national origin, ancestry, veteran's status or genetic information be excluded from participation in, be denied the benefits of, or be subjected to discrimination in any educational program or activity. In addition, no person shall, on any of these bases, be excluded from participation in, be denied the benefits of, or be subjected to discrimination in employment, or recruitment, or consideration, or selection therefore, whether full-time or part-time, under any educational program or activity operated by the school district. The district shall make reasonable accommodations for qualified individuals with disabilities upon request. Please contact the Title IX Coordinator (Director of Human Resources) 857 S. Lewis Road, Royersford, PA, or at 610-705-6000 ext. 6124. Refer to Board Policy No. 103 for further information about the district's Nondiscrimination in Participation, Employment, Contract Practices.