9th Grade QPR Training + Team Building
For the second year, 9th grade students participated in a day of QPR training and team building. QPR stands for Question, Persuade, and Refer -- three simple steps that anyone can learn to help save a life from suicide. Just as people trained in CPR and the Heimlich maneuver help save thousands of lives each year, people trained in QPR learn how to recognize the warning signs of a suicide crisis and how to question, persuade and refer someone to help.
The day focused around promoting kindness, caring, and resiliency in the school community. In addition to the QPR training, students participated in peer-to-peer team building sessions which strengthened bonds and built new friendships.
Click the link below to watch a Spotlight Video from RCTV to learn more.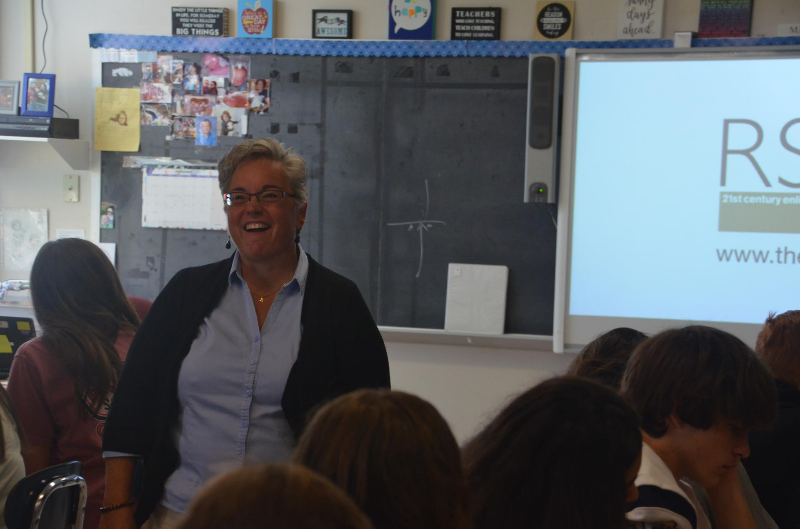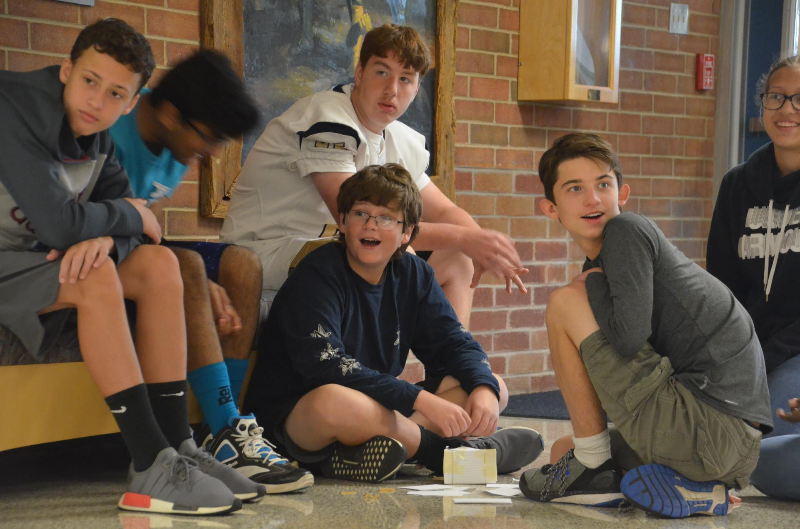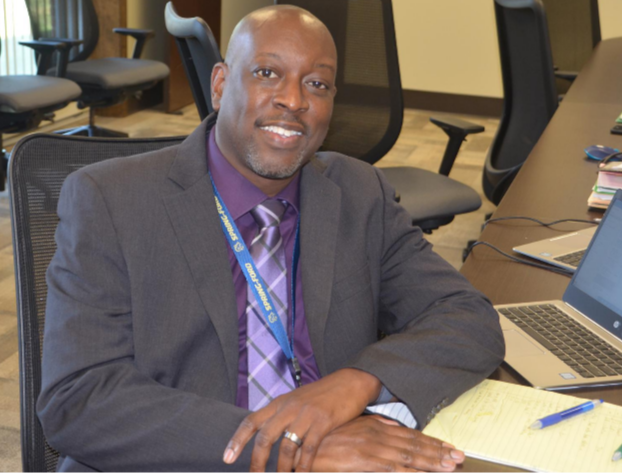 Welcome Dr. Percell Whittaker
The Spring-Ford Area School District is proud to welcome Dr. Percell Whittaker, Grade 4-6 Special Education Supervisor, to the team!
Dr. Whittaker has over fifteen years of experience as a school psychologist and administrator. His career began at Devereux Kanner Center as a special education teacher, where he taught dually diagnosed students. Dr. Whittaker served as a school psychologist for over ten years at West Chester East High School in the West Chester Area School District. Before joining the Spring-Ford School District, Dr. Whittaker was the Director of Pupil Services at the Centennial School District. Prior to his tenure at Centennial, Dr. Whittaker was the Lead Supervisor of Clinical Services and Gifted Education at the Lower Merion School District.
Dr. Whittaker grew up in Chester, Pennsylvania and received his Bachelor of Arts degree in psychology from Cheyney University. Dr. Whittaker earned his Master's degree as well as his Doctoral degree in Educational Leadership and Administration from Immaculata University. Dr. Whittaker's dissertation focused on the underrepresentation of African-American students in gifted education and he is passionate about addressing the educational achievement gap within the public school system.
Dr. Whittaker is thrilled to be a part of the Spring-Ford community and strongly believes that in order to lead you must serve. Dr. Whittaker is excited and looking forward to serving the students, parents, and educational team within the Spring-Ford School District.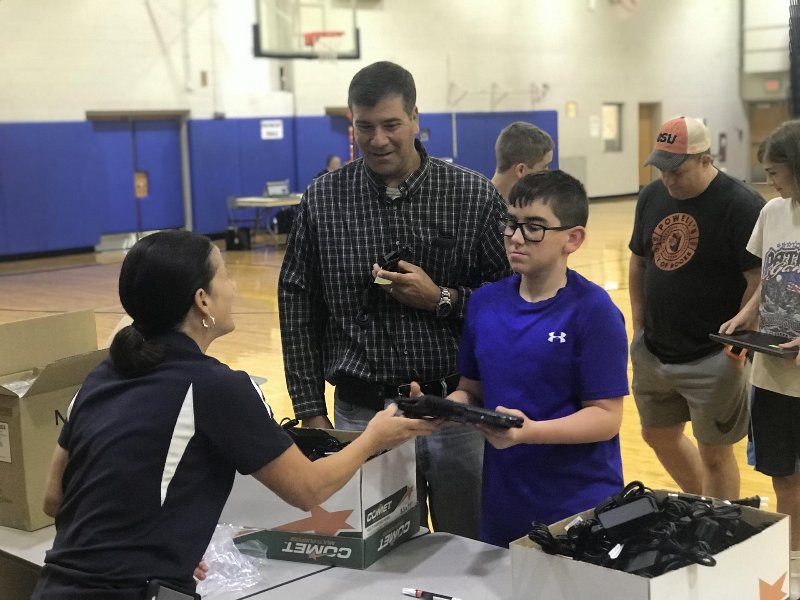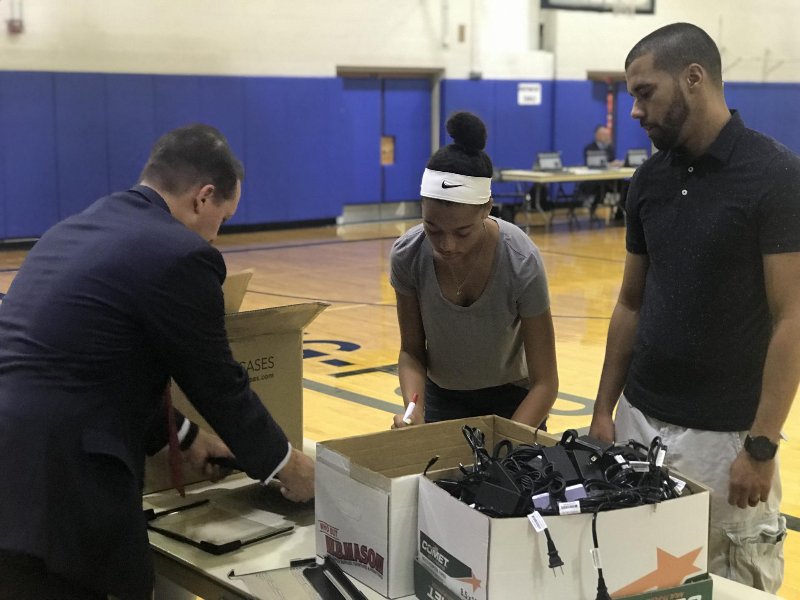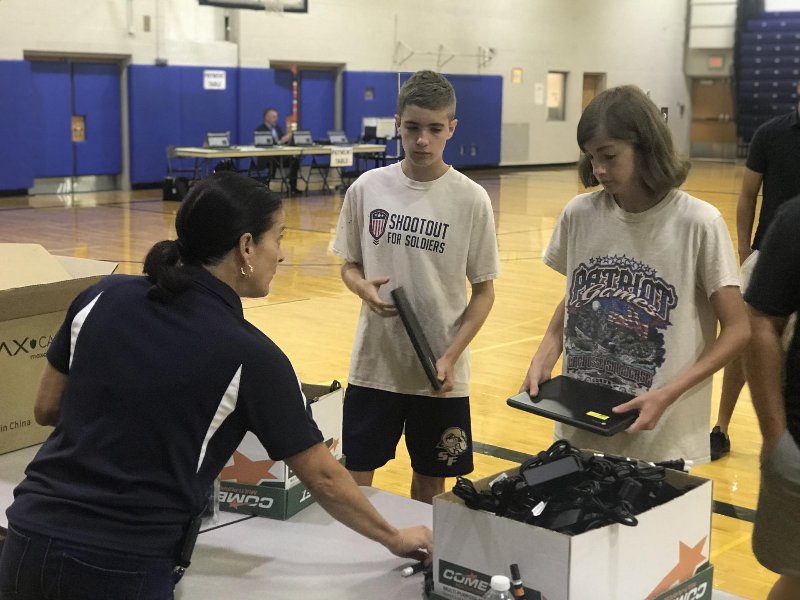 9th Grade Center Laptop Deployment
Spring-Ford Area School District's 9th grade student stopped into school a week before the start of school to pick up their new Chromebook laptops!
Over the past six years, five cohorts of teachers - a total of 65 - have participated in modernized learning training. This year, 9th grade teachers will use technology as a seamless part of solid instructional practice, engaging students, and meeting their individual needs, while student will embrace technology integration as easily in the classroom as they do outside of it. The Class of 2023 is the first class of students to receive new laptops. In order to ensure ALL K-12 students are involved in "modernized" learning, Spring-Ford is following a multi-year plan to increase student and teacher access to technology with technology training in K-12 classrooms:
Grades K-2 : working toward 8 laptops per classroom and training

Grades 3-6: computer carts, moving toward 8 laptops/room and training

Grades 7 and 8: computer carts for each core area and training

Grades 9-12: Full modernized learning training, with goal of one laptop to each student
The vision of Modernizing Learning is to maximize student engagement and increase differentiation through the use of technology. Over the past six years, Spring-Ford teachers have been focused on best instructional practice with the integration of technology to help each student grow and achieve academically.
Spring-Ford Town Hall Meeting
The Spring-Ford Area School District is hosting a Town Hall Meeting to provide a State of the District update for the community. Learn how Spring-Ford is addressing topics such as the vaping epidemic, school start times, student safety, and more. The gathering will take place on Thursday, October 24, 2019 at 7 p.m. in the Spring-Ford Area High School auditorium. All parents, faculty/staff, and community members are welcomed and encouraged to attend.
The Town Hall meeting will include brief presentations from the Superintendent, Director of Curriculum, and Spring-Ford School Police Department. The intent of this gathering is for the district to share a current State of the District, discuss student safety, school start times, and take feedback from the Spring-Ford community.
RSVP is not required, but is encouraged. Click here to RSVP or to submit a question prior to the meeting.
Spring-Ford Introduces 2019 Chief Science Officers
This summer, four Spring-Ford students attended the Chief Science Officer (CSO) conference at Arcadia University. The CSO program was offered as part of the Pennsylvania SEED Leadership Training Institute in August.
The 60 CSOs explored STEM leadership initiatives on Arcadia's campus to take back to the 22 middle and high schools they represented across the Bucks, Chester, Delaware, and Montgomery counties. CSOs will act as ambassadors to bring STEM leadership, experiences, and opportunities back to their peers with the goal of changing their communities.
2019 Spring-Ford CSOs:
Lauren Constantine (12th grade)
Brandon Chai (11th grade)
Becky Valente (11th grade)
Jamie Ford (10th grade)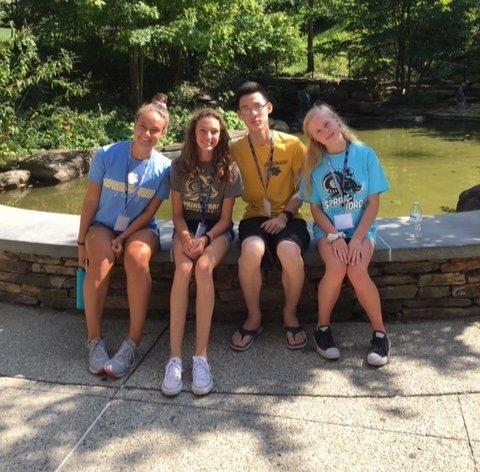 SFAHS Students Recognized by National Merit Scholarship Program
The Spring-Ford Area School District is proud to announce that 22 Spring-Ford Area High School students have been recognized by the National Merit Scholarship Program.
Congratulations to National merit Semifinalists: Aleena Ataher, Harish Bayana, Siddhant Chavan, Deepak Kejariwal, Ryan Pierce, Aryan Singh, Samuel Thomas and Nicholas Tufillaro!
Congratulations to Commended Students: Aastha Bansal, Katie E. Bogia, Gabriella Curry, Charleston R. Huntington, Inaya S. Khan, William J. Marchese, Kevin P. Mouck, Abigail E. Peterman, Sean H. Pham, Jared M. Pierce, Rachel J. Rutkowski, Jenna L. Tumelty, and Victor Wen!
Congratulations to National Hispanic Recognition Program: Katie E. Bogia!
"I am so proud of these 22 students! To be recognized by the National Merit Scholarship Program is a great honor that demonstrates their dedication to academic success," said Spring-Ford Area High School Principal Dr. Patrick Nugent. "I'm also proud of our staff, as they have assisted in the academic accomplishments of these eight students."
New Process: Entering Spring-Ford Schools and Buildings
Parents and students will notice a new procedure when entering a Spring-Ford school or building. Spring-Ford is now using the 2N video/phone system at main entrances. 2N is a school security technology system that is at the forefront of the growing demand for school security solutions focusing on video surveillance, visitor management and electronic access control. Using the new 2N system is easy:
Access to the building will be available at the main entrances only by pressing the 2N "PUSH" button located near the main doors.

Through the use of a video camera, a staff member in the office will greet you and ask you to identify yourself.

Once identified, the staff member will provide you with further direction and will "buzz" you into the vestibule where you may be asked again to provide your name.

There may be a slight delay in our ability to "buzz" visitors into the building as the office staff may be working with a student.

As always, we appreciate your patience during this process.




As a reminder, visitors should never hold the door for another visitor.

Please click the link below to watch a short video so that you may familiarize yourself with the system.
How to Use S2SS and Ram Watch
What is S2SS: S2SS is a life-saving and life-changing school safety program that allows students, educators, parents and community members how to anonymously report this information through the S2SS app, website, or 24/7 Crisis Center Hotline.
History: The Pennsylvania Office of Attorney General (OAG) has partnered with Sandy Hook Promise (SHP) to roll out the S2SS program. SHP is a national non-profit organization committed to creating safe schools and communities through their four evidenced-based Know the Signs intervention programs. The program is offered to school districts at no cost.
S2SS works through 3 easy steps:
A "tipster" submits a tip via mobile app, website or by calling the PA based 24/7 Crisis Center

The tip is then triaged by the OAG Crisis Center. OAG Crisis Center analysts are trained to receive and triage tips to: ensure there is enough information to act upon, conduct 2-way anonymous dialog with tipsters to gather missing information, categorize the tip into life-safety or non-life safety for ease of prioritization by recipients, and deliver the tip to Spring-Ford's Response Team and, where needed, its local law enforcement via 911 County Dispatch.

When the tip is delivered, Spring-Ford's Response Team will notify the impacted school and, as needed, law enforcement. To ensure the success of the program, each Pennsylvania district, charter school, cyber charter school, private school, nonpublic school, intermediary unit, and/or area vocational-technical school has an assigned S2SS Response Team who will have the responsibility to receive and act upon tips. Once completely investigated, Spring-Ford's Response Team then closes out the tip and reports actions taken as a record for their school.
The S2SS app, website and phone system is always "open" for parents and students to access.
Please click here to learn more about the S2SS program.
Ram Watch: They are your friends, and you are the ones who can help watch out for them better than anyone else. Ram Watch was designed to give you a safe and anonymous way to watch out for those friends.
Once a Ram Watch is submitted, the information will be sent directly to the appropriate principal.
Click here for the Ram Watch referral form.
As always, If you are in need of IMMEDIATE help:
Call 9-1-1 or go to your local area hospital Emergency Department

Call the Children's Mobile Crisis Support: 888-435-7414

Call the Peer Support Talk Line: 855-715-8255

(available daily 3 p.m. to 8 p.m.)

Call the Teen Talk Line: 1-800-273-8255 or text 215-703-8411

Call the National Suicide Prevention Liveline: 800-442-4673
SFASD Offers Free Microsoft Office365 Suite

Office 365 Education for Students is the Microsoft Office 365 suite available at no cost to Spring-Ford Area School District students, employees and families. It allows students to install Word, Excel, PowerPoint, Outlook, and OneNote on up to 5 devices (Windows or Mac) and Office apps on other mobile devices including Windows tablets and iPads. It also includes 1TB of OneDrive storage.
Click hereto learn more about the program, and to download your FREE version of Office365.
Parent Speaker Series: ALICE Parent Night
The Spring-Ford Area School District, in conjunction with the Spring-Ford School Police Department, invites all parents to an ALICE Parent Information.
Parents will learn about the ALICE Training Program, review the book "I'm Not Scared... I'm Prepared" and ask questions. This event is geared towards parents only. ALICE is an acronym for Alert, Lockdown, Inform, Counter and Evacuate.
WHEN: Tuesday, October 22, 2019 at 6:30 p.m.
WHERE: Spring-Ford Area High School
RSVP: Click below to RSVP

Parent Speaker Series: Media, Messaging and Youth

Michael Blanche, MSS, LCSW, a counselor specializing in adolescents and young adults, will discuss ways that our kids are being impacted by social media, the "misinformation highway," the access to substances online, and more.
Well known for his insights about the real-world challenges facing adolescents and young adults, Mike will help us to navigate the over-exposure to media and technology, as well as encouraging a healthy balance.
WHEN: Thursday, November 7 from 6:30 to 8:30 p.m.
WHERE: Spring-Ford Area High School
RSVP: Click the link below to register for this FREE event
The Spring-Ford Area School District affirms that no person shall, on the basis of sex, disability, race, color, age, creed, religion, sexual orientation, national origin, ancestry, veteran's status or genetic information be excluded from participation in, be denied the benefits of, or be subjected to discrimination in any educational program or activity. In addition, no person shall, on any of these bases, be excluded from participation in, be denied the benefits of, or be subjected to discrimination in employment, or recruitment, or consideration, or selection therefore, whether full-time or part-time, under any educational program or activity operated by the school district. The district shall make reasonable accommodations for qualified individuals with disabilities upon request. Please contact the Title IX Coordinator (Director of Human Resources) 857 S. Lewis Road, Royersford, PA, or at 610-705-6000 ext. 6124. Refer to Board Policy No. 103 for further information about the district's Nondiscrimination in Participation, Employment, Contract Practices.