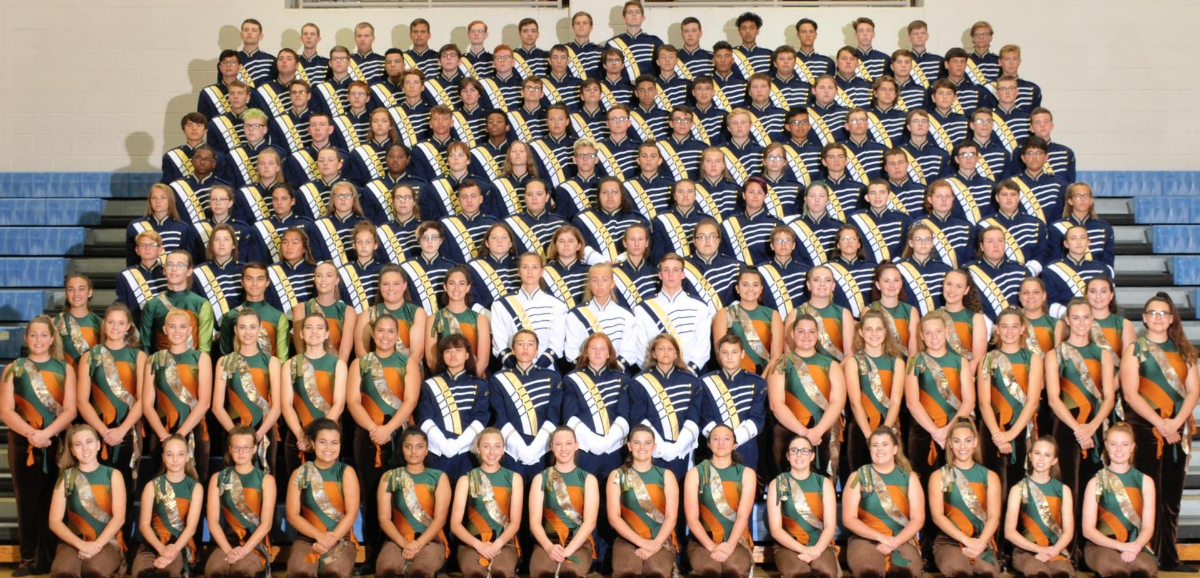 Spring-Ford Area High School Band Receives National Recognition
The Spring-Ford Area High School Band Program was awarded the National Band Association Programs of Excellence Blue Ribbon Award: High School and Middle School Eastern Division!
The National Band Association (NBA) is dedicated to the attainment of a high level of excellence for bands and band music. The NBA Programs of Excellence initiative recognizes quality programs at all levels. Those programs and educators which challenge students and promote standards of excellence will be honored nationally through this initiative.
The Spring-Ford Area High School Band is comprised of students participating in:
Mr. Seth Jones, Spring-Ford Area High School Band Director, said "This is the first time that Spring-Ford has been recognized at the National Level. It is thanks to the dedication of our students, their families, our administrative team, and the entire school community that we have been honored with this award. To be part of our band is to be part of a family. The Spring-Ford band community is truly quite special."
Spring-Ford Area High School Band was the only high school in the Eastern Division (Maine to Maryland) awarded this year, and the first from the Eastern Division since 2014. Across the nation, 14 programs were awarded. Six were from the State of Texas, two from the State of Florida, two from the State of Illinois, one from the State of South Carolina, one from the State of Tennessee, and one from Virginia.
The National winners of the Programs of Excellence Blue Ribbon Award will be announced at the NBA General Membership Meeting at the Midwest Clinic in December. Results are then posted again on the NBA website and Facebook page by mid-January, plus included in the winter edition of the NBA Journal.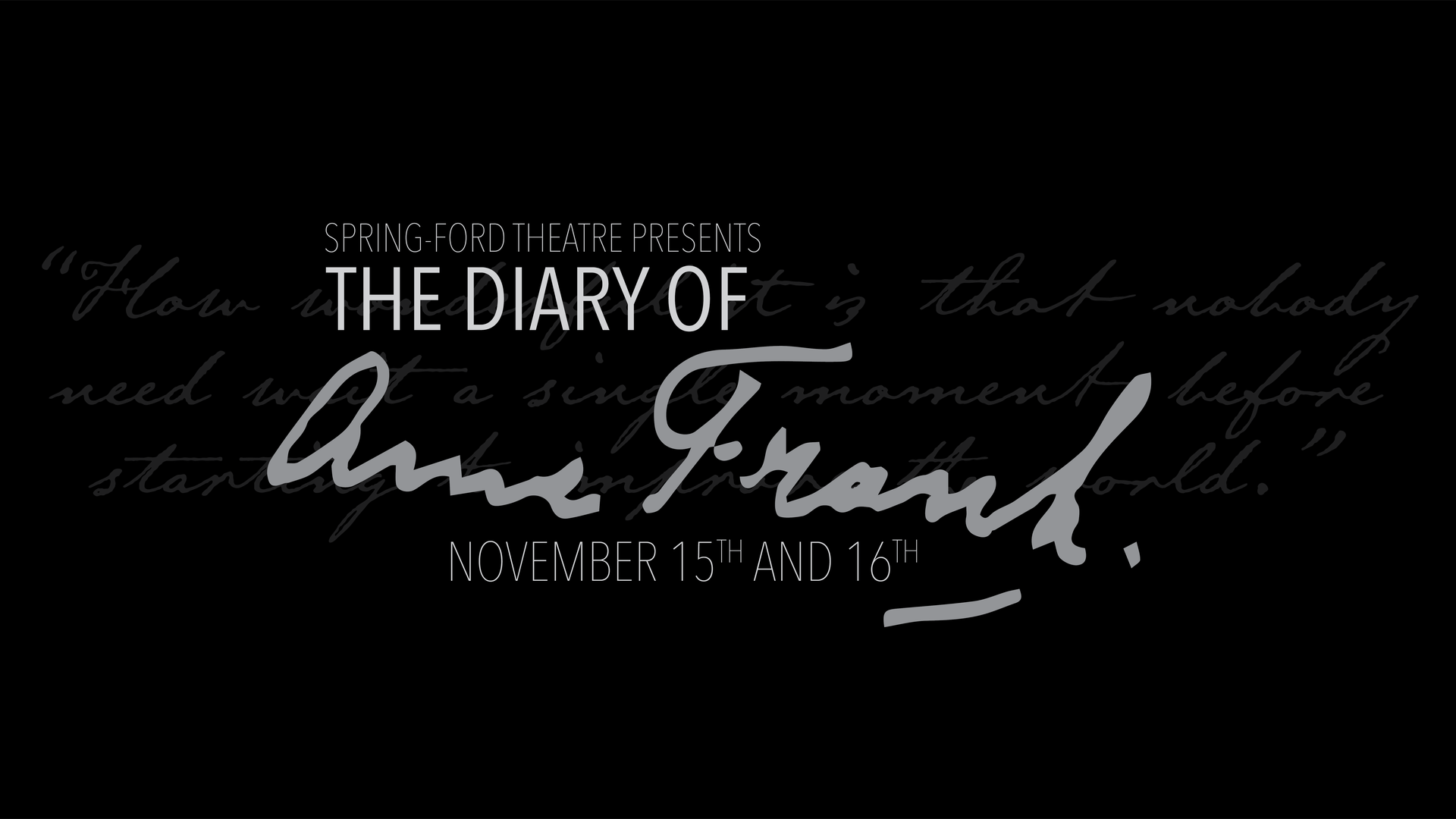 Fall Play: The Diary of Anne Frank
The tickets are selling fast for the Fall Play! Spring-Ford Area High School Theatre presents The Diary of Anne Frank this November 15 and 16.
In this transcendently powerful new adaptation by Wendy Kesselman, Anne Frank emerges from history a living, lyrical, intensely gifted young girl, who confronts her rapidly changing life and the increasing horror of her time with astonishing honesty, wit, and determination. An impassioned drama about the lives of eight people hiding from the Nazis in a concealed storage attic, The Diary of Anne Frank captures the claustrophobic realities of their daily existence—their fear, their hope, their laughter, their grief. Each day of these two dark years, Anne's voice shines through: "When I write I shake off all my cares. But I want to achieve more than that. I want to be useful and bring enjoyment to all people, even those I've never met. I want to go on living even after my death!" This is a new adaptation for a new generation.
WHEN: November 15 and 16 at 7 p.m.
WHERE: Spring-Ford Area High School, 350 South Lewis Road, Royersford
DETAILS: Tickets are $10 for adults, $8 for students. Click here to reserve your seat online.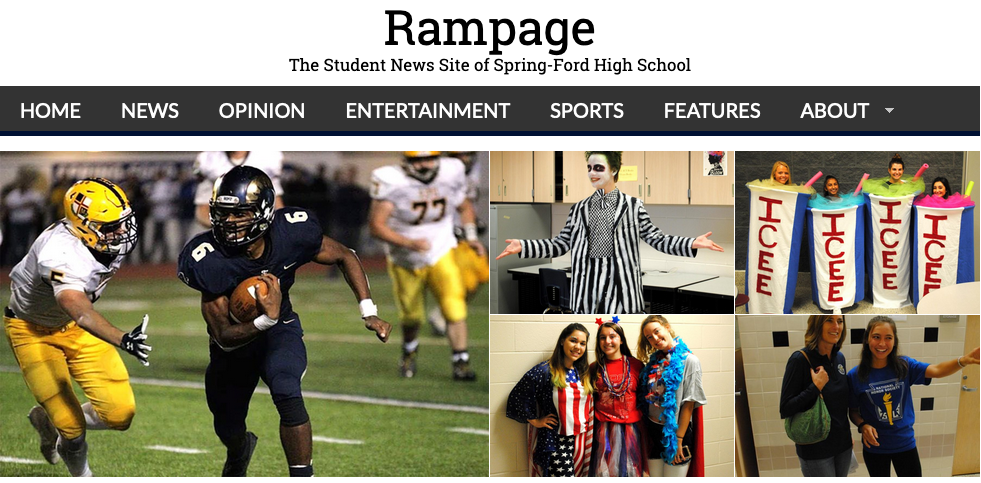 What We're Reading: Rampage
Published three times a year, the Rampage is a student-written, student-edited news magazine for the students and staff of Spring-Ford Senior High School subsidized, in part, by the school district. Although available electronically, subscriptions for in-school, 1st-period delivery are available for $10 and limited single-copy issues are also available for purchase.
The Rampage is compiled by students, on site, using Microsoft Word and Publisher. It consists of six sections (News, Features, Sports, Entertainment, Opinion/Humor, and Ramblings/Comics) each of which is edited by a separate department editor. These departments are then combined to form the newspaper under the Editor-in-Chief, Managing Editor and General Manager.
Once completed, the publication is sent electronically to an outside printer to produce the 200-300 copies that will be sold. Each edition is made available at school by student salespersons and by dispensers located in the auditorium lobby. The lifecycle from the first topic meeting, where reporters and photographers are given their assignments, until publication is roughly one month. The staff has approximately two weeks off between each edition cycle.
Save the Bats! Evans Elementary School Spotlight
Over the past few months, three former Evans Elementary students, Jordyn Gutshall, Ashley Gutshall and Grace Butler, were working toward their Girl Scout Silver Award. Their project, "Do You Hear What I Hear? Bat Education and Conservation" included building, hanging and donating 16 bat boxes to several local groups in Montgomery, Chester and Berks Counties, including Evans Elementary School! The girls donated and hung a bat box in the wetlands area at Evans Elementary.
Bat Facts: Bats save the farming industry millions of dollars on pesticides every year. Among birds, bees, and other insects, bats are also important pollinators for foods such as bananas, almonds, peaches, avocados, cashews, and other plants! Bats can eat up to 1,200 mosquitoes an hour. Often, bats consume their body weight in insects every night, helping keep bug populations in check.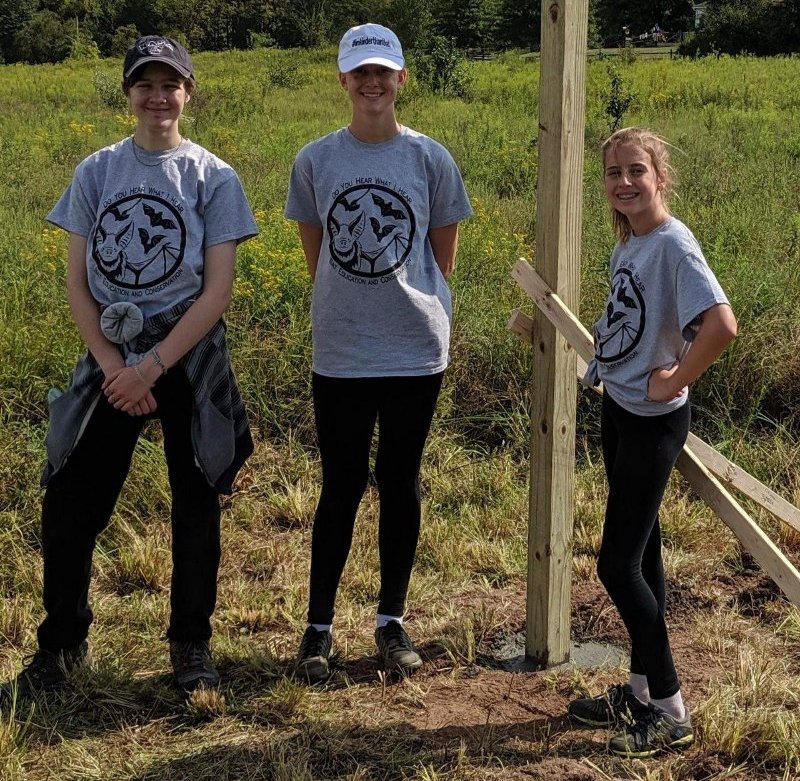 Student Spotlight: Future Planning Center Success Story
Spring-Ford Area High School graduate, Samantha Quintero, was recently selected as a student speaker at the Montgomery County Intermediate Unit for the College and Career Leadership Council Meeting. During the meeting, Samantha, who graduated in 2019, spoke about her experiences this past summer with her internship through the Montgomery County Intermediate Unit's new internship program called MontcoWorks NOW Summer Internship Program.
MontcoWorks NOW provides comprehensive, year-round programs and services for eligible youth and young adults who are either in school, have left school without a diploma and are now motivated and re-engaged, or have graduated and are unemployed/underemployed.
As with many young adults, Sam entered her senior year being undecided, but considering a major in psychology. Mrs. Tricia Benner, College and Career Advisor, said "Sam was an FPC favorite, so Mrs. Sussman and I both took a lot of join in working with her. She took a career interest profiler with us, and I encouraged her to consider one of her results, human resources. I set up some time for her to meet Beth Leiss, Spring-Ford's Director of Human Resources, for an 'informational interview' to learn more about human resources. Then, we encouraged her to apply for the MontcoWorks internship. More than 50 students applied and only a handful were selected to participate! Sam was selected to intern with a local environmental group called the Lewis Group in their Human Resources Department. That experience must have sealed the deal for her with human resources because she declared her major as 'Managing Human Capital' at Saint Joseph's University just last week!"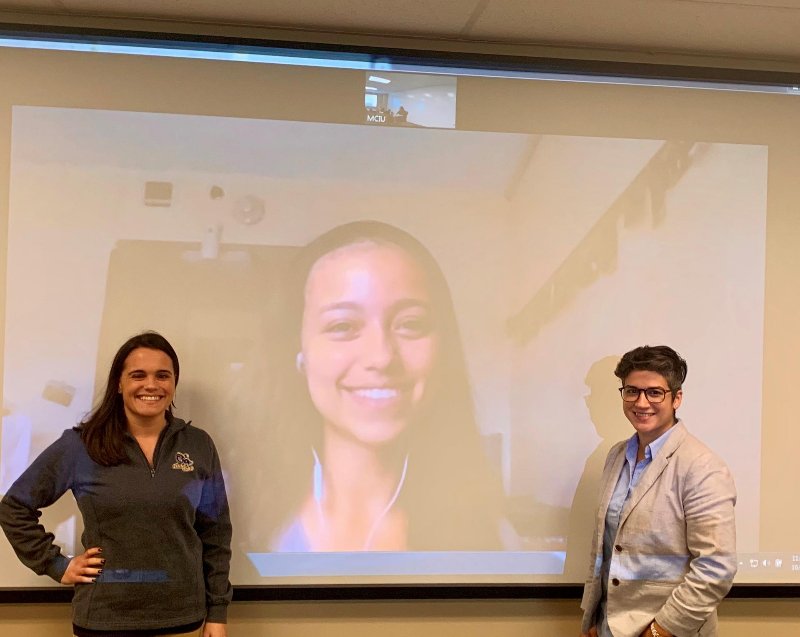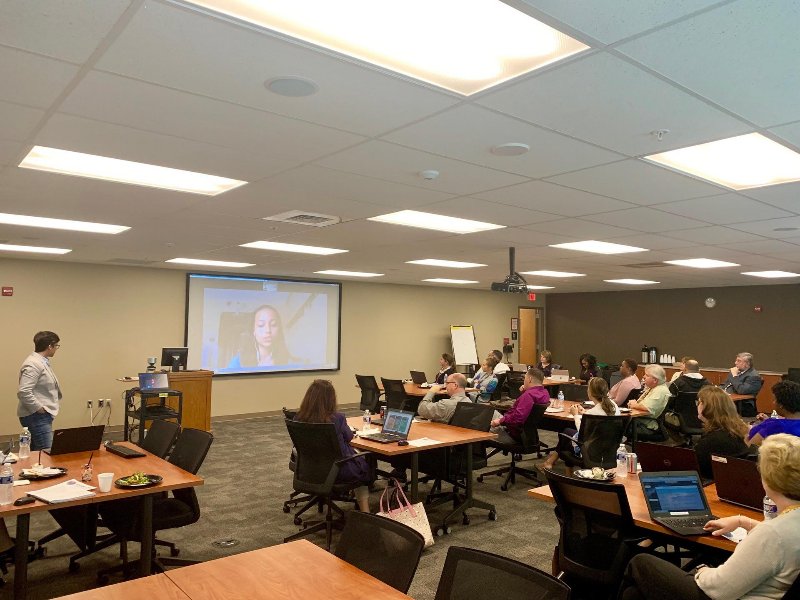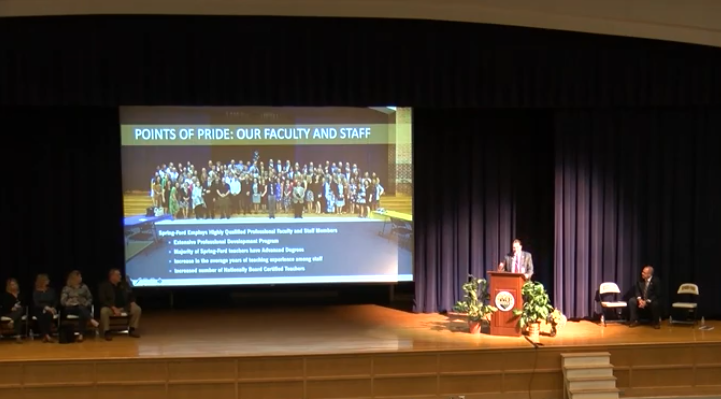 Town Hall Meeting Replay
Did you miss the Town Hall Meeting last week? You can watch the full meeting online! Click the link below to learn more about topics including:
State of the District Update

Budget Update

Vaping

School Safety Update


Exploring School Start Times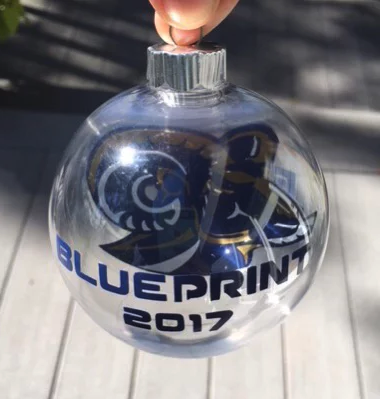 SFMA Makes Life Easier!
Holiday Fundraisers: We know the fall season can be busy with lots of hard work between all the BAKING, DECORATING and SHOPPING, so SFMA organized a few fundraisers that can help you out! Click on the items below to start your order and for more details.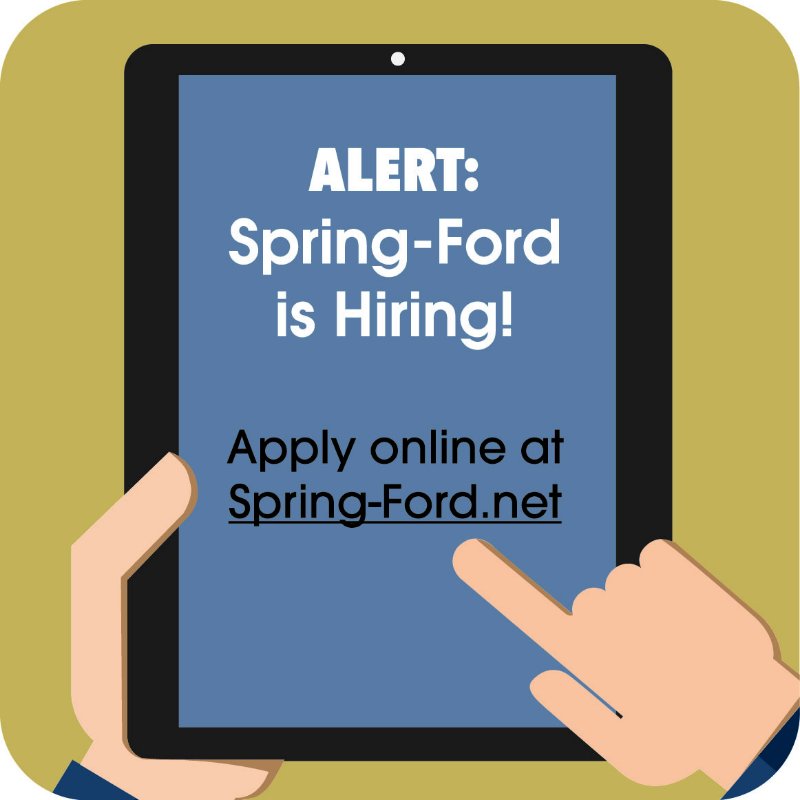 Spring-Ford is Hiring!
Spring-Ford is hiring an Executive Secretary! This individual performs responsible administrative support; plans and organizes office activities and workflow; coordinates communications for the office; applies knowledge of District policies, rules, regulations, procedures, programs and organizes specific situations and tasks. Highly confidential position. Click here to learn more and apply online.

Lunch Menus are Interactive!

As the Spring-Ford Food Service department continues to introduce new food options to students, the department is committed to introducing food-based resources as well!
Nutrislice, our menu software platform, provides easy, up- to-date, and immediate access to all Spring-Ford Area School District menus. Parents will have access to food descriptions, nutrition, and allergen information.
How to access NutriSlice: Find the Nutrislice App in your devices App Store. Once you download the app, it will ask you to search for Spring-Ford, start typing Spring-Ford and it will populate. Select Spring-Ford and click "View Menus". From this screen, you can browse through the schools and see the menus. We recommend tapping on the heart icon to favorite your school. When you select home, your screen will then default to your favorites! Within the menus, you can select the food item and see the nutrition information, rate the food, and see what allergens are in it. The three lines that are in the middle of your screen bring you to a "filters" screen, where you can filter out what allergens you need to avoid.
In addition, the online NutriSlice link can be found on each school page.
Click here to learn more, and to watch a short video tutorial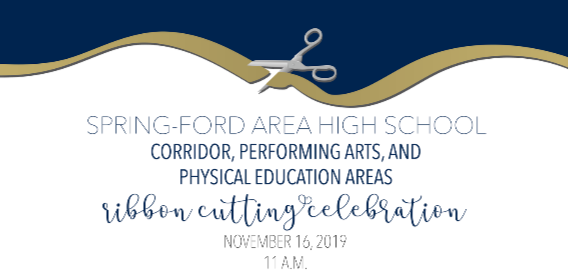 Ribbon Cutting Celebration
Save the Date! Please join us for a Ribbon Cutting and Tour of the new Corridor, Performing Arts, and Physical Education areas!
WHEN: Saturday, November 16 at 11 a.m.
WHERE: Spring-Ford Area High School, 350 South Lewis Road, Royersford
DETAILS: Guided tours, live music, student art work, morning snacks and coffee will be offered.
RSVP: Click here to RSVP.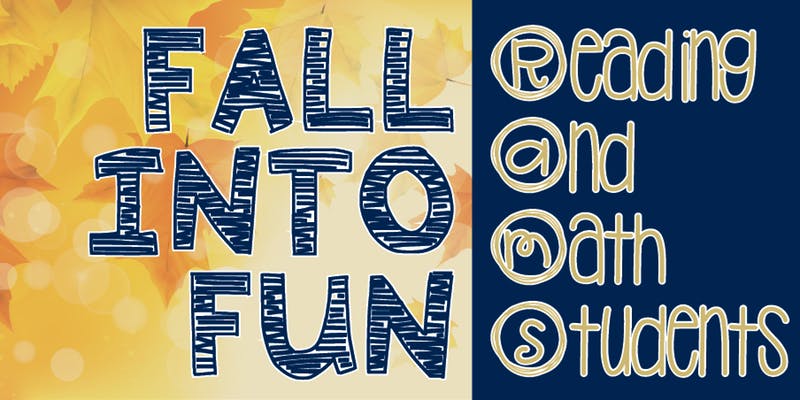 SFASD Math and Literacy Night
Are you ready to "fall" into fun!? Join us for Spring-Ford Family Math and Literacy Night on Monday, November 4, 2019. Students in grades K-6, along with their parents, will have fun at this open-house style event:
Visit any station in any order you choose

Participate in hands-on activities

Raffles and Prizes will be available

Admission is FREE, but attendees are encouraged to bring a canned good.
Spring-Ford Family Math and Literacy Night is hosted by the SFASD Curriculum and Instruction team, and will have many teachers to support student and family learning.
WHEN: Monday, November 4, 2019
WHERE: Upper Providence Elementary School, 833 South Lewis Road
RSVP: Click here to register

The Spring-Ford Area School District affirms that no person shall, on the basis of sex, disability, race, color, age, creed, religion, sexual orientation, national origin, ancestry, veteran's status or genetic information be excluded from participation in, be denied the benefits of, or be subjected to discrimination in any educational program or activity. In addition, no person shall, on any of these bases, be excluded from participation in, be denied the benefits of, or be subjected to discrimination in employment, or recruitment, or consideration, or selection therefore, whether full-time or part-time, under any educational program or activity operated by the school district. The district shall make reasonable accommodations for qualified individuals with disabilities upon request. Please contact the Title IX Coordinator (Director of Human Resources) 857 S. Lewis Road, Royersford, PA, or at 610-705-6000 ext. 6124. Refer to Board Policy No. 103 for further information about the district's Nondiscrimination in Participation, Employment, Contract Practices.