RAM REVIEW: November 2019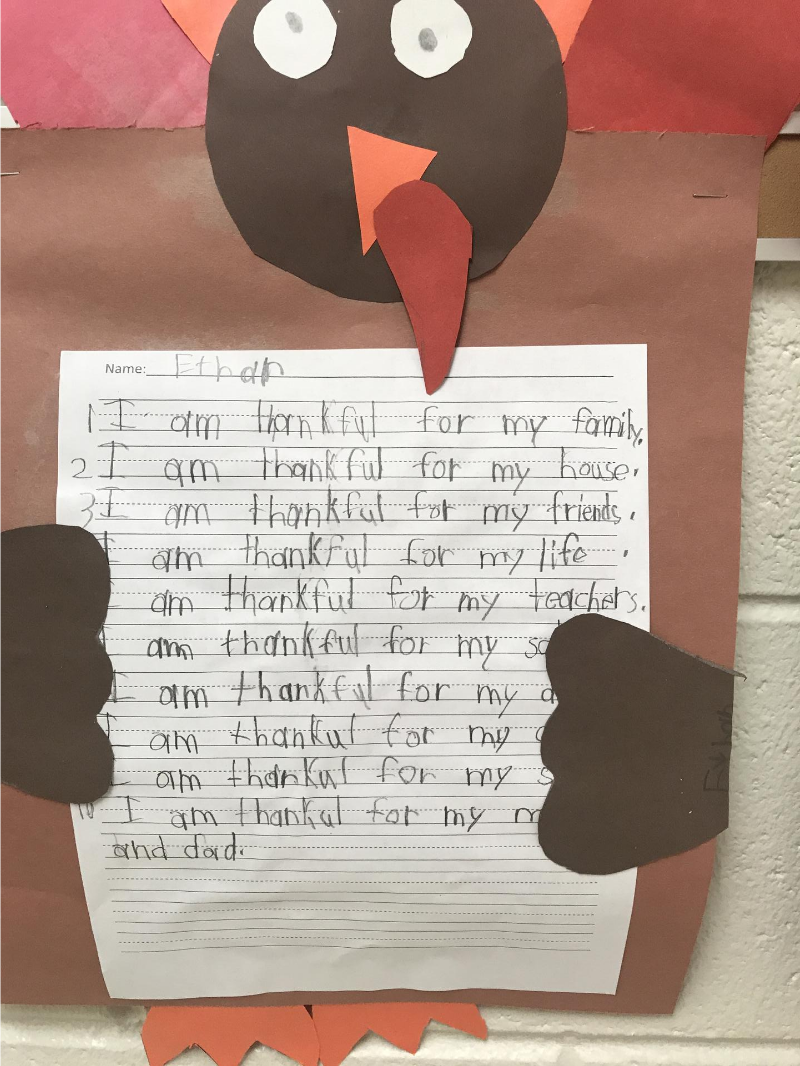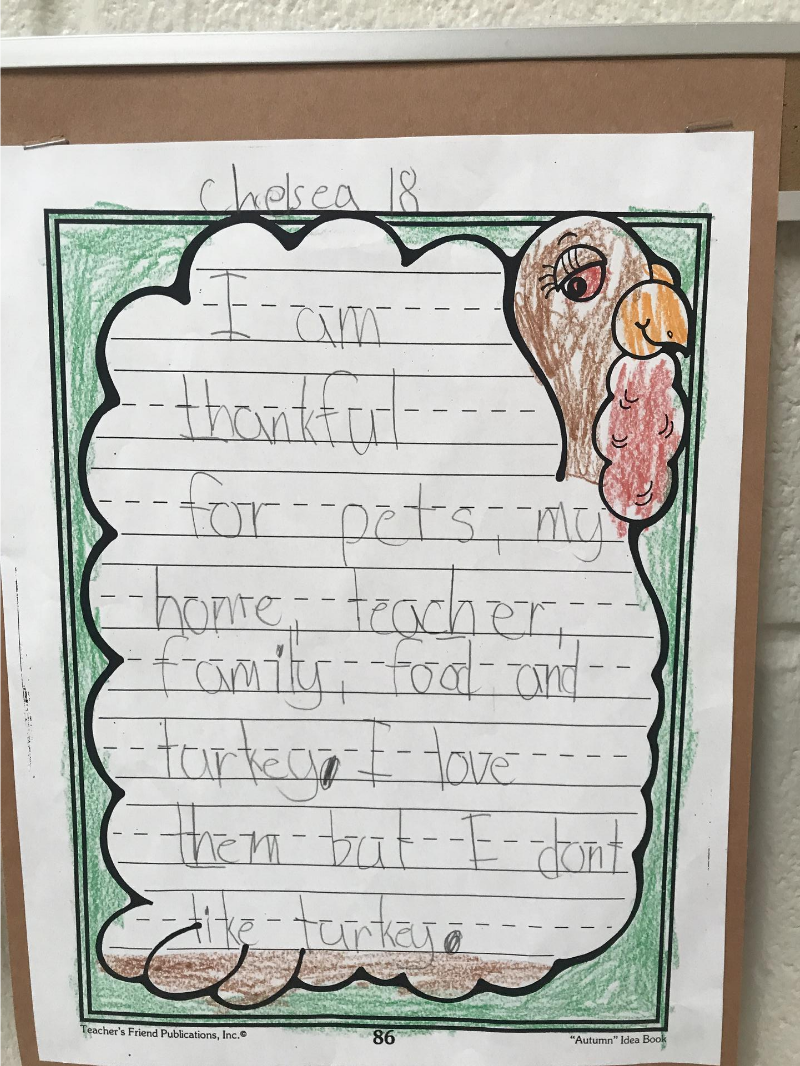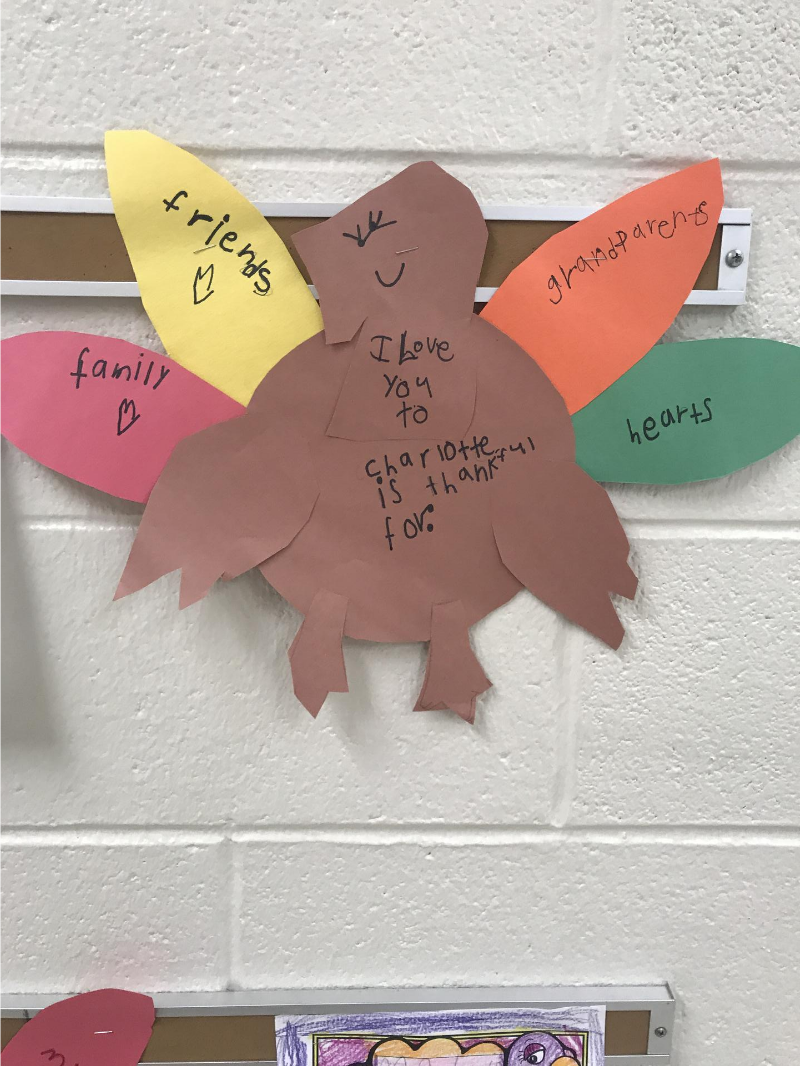 Thanksgiving Message from Dr. Goodin
Hello Spring-Ford community,
When I was younger, Thanksgiving was all about food and football. As I got older, it became about family (and food). Now, as I reflect on Thanksgiving, the word that comes to mind is gratitude. This is truly a holiday that is focused on gratitude.
What am I grateful for this Thanksgiving holiday? A number of things, including food, family, and football, but largely I'm grateful for the opportunity to learn about what your students are thankful for:
Harrison is thankful for Mom and Dad, Gammy, Pop Pop, and Karen.
Everett is thankful for her super teachers and gorgeous school.
Liam is thankful for his cat.
Rory is thankful for friends.
King is thankful for frogs, the sun, and the moon.
Chelsea, like me, is thankful for food and turkey.
These expressions of thanks remind us that we can give thanks not just on Thanksgiving, but every day.
For anyone who is traveling this week, I wish you safe and happy travels. I hope that you enjoy the people you're surrounded with on Thanksgiving, and that you take time to practice gratitude this week.

Dr. David Goodin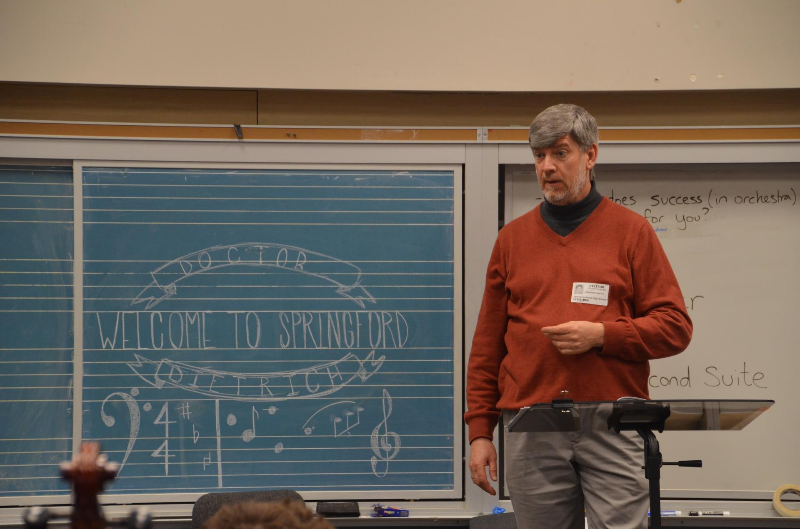 SFAHS Welcomes a Guest Conductor
Last week, Dr. Johannes Dietrich, Orchestra Director at Lebanon Valley College, visited the Spring-Ford Area High School orchestra classroom for an afternoon of collegiate level music instruction. Dr. Dietrich has been leading the students of LVC for 25 years, and conducts for many local festivals, including Montgomery County Honors String Orchestra, district festivals, and multiple county festivals. His LVC orchestra is performing in Europe this upcoming summer.
Mrs. Emily McGranahan, Spring-Ford Orchestra Director, said "this is an experience that students will carry with them throughout their high school career, and even into college. Dr. Dietrich not only spent time conducting the full orchestra, he also gave advice on applying to programs in college and spent one-on-one time with students. It was really a unique experience for these musicians!"
Mrs. McGranahan oversees four orchestras in Spring-Ford High School including the 9th Grade Blue Orchestra, the 10-12 Gold Orchestra, the Honors Orchestra and the Symphonic Orchestra.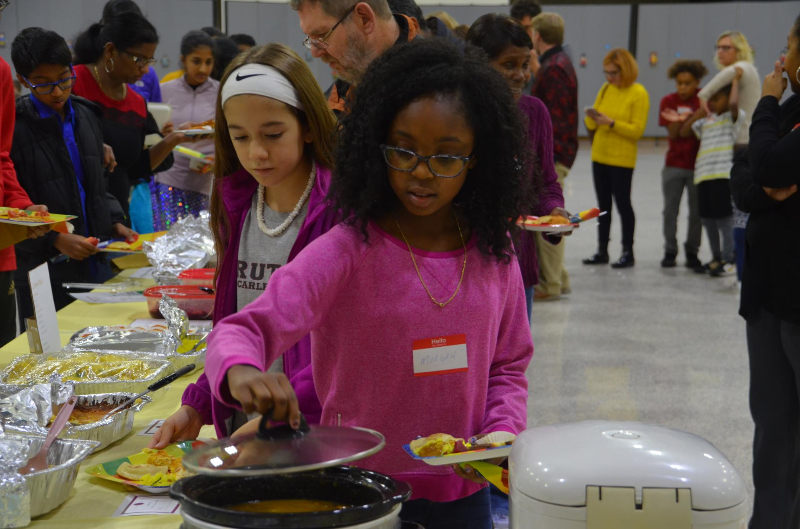 Multicultural Thanksgiving Feast

Families of 5th, 6th, and 7th grade students were invited to the 4th Annual Multicultural Thanksgiving Feast. Each student brought a dish special to their family's heritage
to share with friends.
"This dinner was unique in that this was the first time some families ever met. It is easy to buddy up with someone when standing on the soccer field sidelines, but it is entirely different to sit down and break bread with them. From Chicken curry, rice and samosa, to naan, to lasagna, to apple fritters, there was something for everyone, from everyone," said Dr. Kathie Kotch. Dr. Kotch, who has been organizing the dinner for the past four years, and noted that 17 countries were represented this year.
In addition to a buffet style meal, the evening included displays from Laos, India, and China, traditional henna art, dancing, and even a good old-fashioned Turkey Toss.
Lunch Menus are Interactive!

As the Spring-Ford Food Service department continues to introduce new food options to students, the department is committed to introducing food-based resources as well!
Nutrislice, our menu software platform, provides easy, up- to-date, and immediate access to all Spring-Ford Area School District menus. Parents will have access to food descriptions, nutrition, and allergen information.
How to access NutriSlice: Find the Nutrislice App in your devices App Store. Once you download the app, it will ask you to search for Spring-Ford, start typing Spring-Ford and it will populate. Select Spring-Ford and click "View Menus". From this screen, you can browse through the schools and see the menus. We recommend tapping on the heart icon to favorite your school. When you select home, your screen will then default to your favorites! Within the menus, you can select the food item and see the nutrition information, rate the food, and see what allergens are in it. The three lines that are in the middle of your screen bring you to a "filters" screen, where you can filter out what allergens you need to avoid.
In addition, the online NutriSlice link can be found on each school page.
Click here to learn more, and to watch a short video tutorial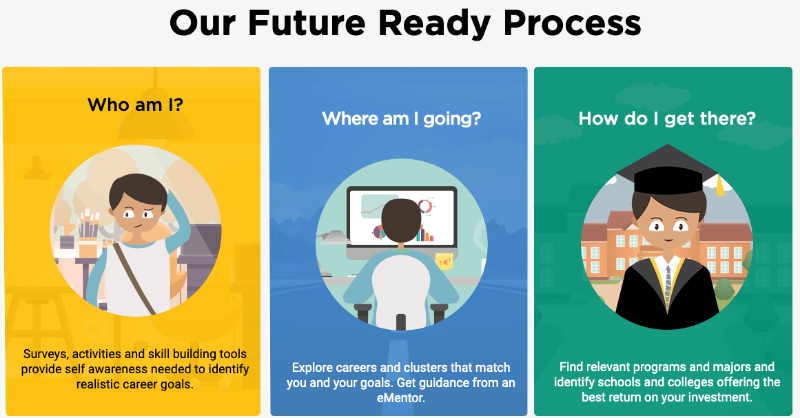 Spring-Ford's Smart Futures
Does your 8th grade student know what they'll say when Aunt Amy asks "Do you know what you are going to do when you grow up?" More than likely, they don't know… yet.
Spring-Ford students now have access to a new program called Smart Futures! Smart Futures was designed to help prepare students for life after high school. There are a number of activities in Smart Futures that allow students to take interest, career, and major quizzes to help students explore pathways for life after graduation. Students can also fill out a mock job application, learn more about the job interview process, create a future budget for themselves, and much more! One of the best features of this program is that it is built around the local job market. Once students identify a career of interest, they can explore real, local job openings in that career field and connect with colleges and trade schools that offer majors or training programs to prepare for those jobs.
Students are encouraged to explore all that Smart Futures has to offer on their own, but they will also be working on select activities in the classroom as well. It is never too early or late to start planning! All students can access Smart Futures through their "Clever" accounts. To learn more about Smart Futures and how to get started, check out this video tour of the program.

Please contact the FPC with any questions.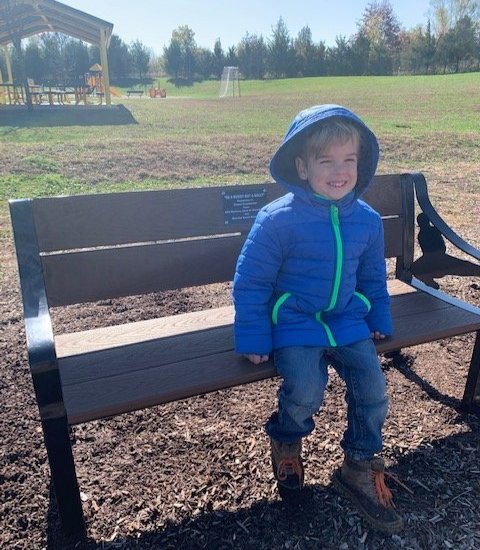 Buddy Up at Evans Elementary School
Students at Evans Elementary School saw a new addition to their playground this year, a Buddy Bench!
A Buddy Bench is a special place in a school playground where a child can go when they want someone to talk to. Buddy Benches may be distinctively different from other seating in the school and may be specially designed by an artist or with the help of the children themselves.
When a student feels the need for a friend to talk to they can show this by taking a seat on the Buddy Bench. Other children and staff will recognize this as a sign that some support in the form of a friend is needed.
The Evans Buddy Bench was donated by ATA Marshal Arts of Royersford.
Celebrating National Family Literacy Day

Students at Limerick Elementary School received a special visit on November 1 from Pennsylvania State Representative, Joe Ciresi. Mr. Cirsi, former Spring-Ford School Board President, made time to read to students on National Family Literacy Day.
For the past 23 years, libraries, schools, and educational programs across the United States have celebrated National Family Literacy Day. Generally, it is an opportunity for lifelong readers to emphasize the important role that families play in the education of their children.
There are more reasons than ever before to read aloud to children starting at a young age. Reading develops early vocabulary and learning skills, expands their attention span, improves imagination and creativity, and can even help young minds fall asleep faster at night.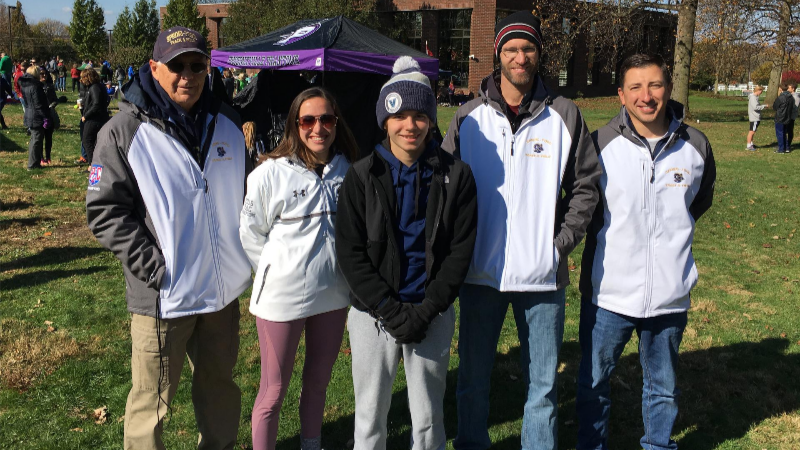 Athlete Spotlight: Alex Fink

Congratulations to Spring-Ford Junior, Alex Fink, for recently being named to the Pottstown Mercury All-Areas Boys' Cross Country First Team!
Student-athletes can earn one of three designations within their sport's All-Area Team: First Team, Second Team, or Honorable Mention.

Congratulations, Alex!
WHAT WE'RE WATCHING ON RCTV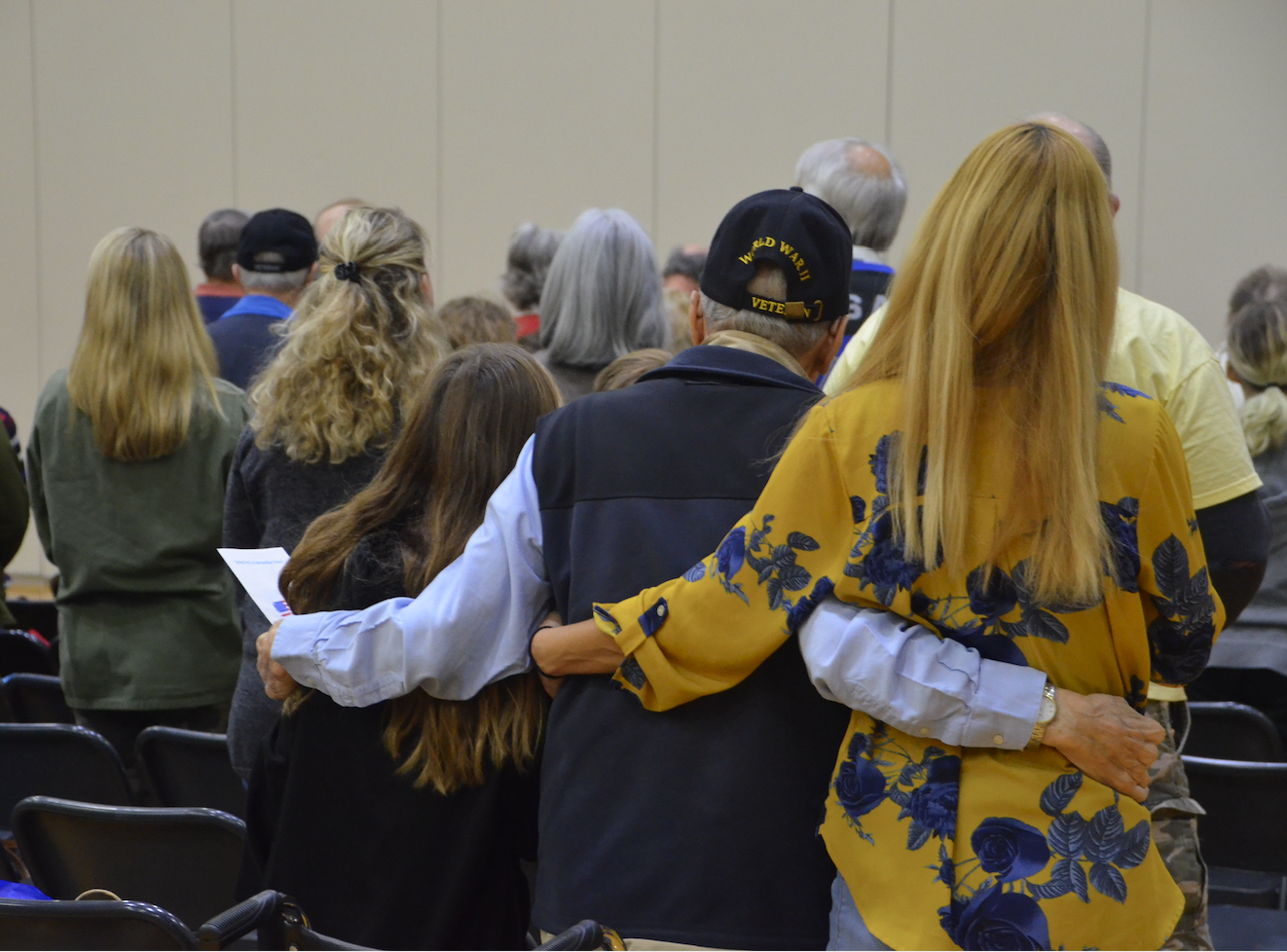 The Spring-Ford Area School District affirms that no person shall, on the basis of sex, disability, race, color, age, creed, religion, sexual orientation, national origin, ancestry, veteran's status or genetic information be excluded from participation in, be denied the benefits of, or be subjected to discrimination in any educational program or activity. In addition, no person shall, on any of these bases, be excluded from participation in, be denied the benefits of, or be subjected to discrimination in employment, or recruitment, or consideration, or selection therefore, whether full-time or part-time, under any educational program or activity operated by the school district. The district shall make reasonable accommodations for qualified individuals with disabilities upon request. Please contact the Title IX Coordinator (Director of Human Resources) 857 S. Lewis Road, Royersford, PA, or at 610-705-6000 ext. 6124. Refer to Board Policy No. 103 for further information about the district's Nondiscrimination in Participation, Employment, Contract Practices.